Mexico City-based team to highlight automated solutions that increase fulfillment efficiency
(MEXICO CITY: April 20, 2016)—Intelligrated® (www.intelligrated.com), a leading North American-based automated material handling solutions provider with key operations in Mexico City, announces its lineup for EXPO PACK México, May 17-20 at Centro Bancomer in Santa Fe, Mexico City. At booth #1808, the company will demonstrate its GoKart mobile order picking technology and highlight material handling automation solutions that increase throughput and accuracy for end-of-line manufacturing and distribution operations.

Intelligrateds demonstration features a mobile order-picking cart integrated with a light system to simulate a fast, accurate order fulfillment solution for a variety of workflows. The companys range of flexible order picking solutions scale to accommodate growing demand and are compatible with a variety of fulfillment methodologies. Light and multilingual voice solutions enable employees to quickly scale up to target productivity levels with minimal training requirements.
Booth visitors can also learn about IntelliSort® sortation systems that utilize a variety of technologies, including sliding shoe, tilt-tray and cross-belt sortation. Intelligrated sorters accommodate virtually any product size, shape and packaging type, while providing gentle carton control and accurate diverts for high-throughput sortation to keep critical operations running smoothly.
A certified robotic integrator, Intelligrated provides Alvey® robotic solutions that replace manual processes with the speed and accuracy of automation, including palletizing, depalletizing, case packing and unpacking, and tote handling solutions. Intelligrated robotic systems utilize the latest end-of-arm tooling, software and controls to handle multiple product types and facilitate quick line changeovers.
"As Latin American economies continue to grow and reach increasing levels of productivity, automation and tools to enhance labor productivity offer a proven path to meet these demands," says Mauricio Roman, general director, Mexican operations. "As a trusted, local partner Intelligrated offers the latest technology and the expertise, training and ongoing support necessary to get the most out of material handling investments."
Intelligrated supports the region with significant investments, including industry-leading system design, implementation and customer service and support. The company operates a Mexico City-based spare parts fulfillment center and maintains local sales and support staff.
To arrange a meeting at the show, email info@intelligrated.com.
For sales and marketing information, contact Tracy Niehaus, marketing manager, Intelligrated, by phone at 513.881.5239 or by email at tracy.niehaus@intelligrated.com.
For media information, contact Dan Gauss, public relations, Koroberi, by phone at 919.797.2916 or by email at dan@koroberi.com.
Tweet this: @Intelligrated to feature order fulfillment, robotics and sortation solution @EXPOPACK Mexico bit.ly/1SqajIs
###
About Intelligrated
Intelligrated is a leading North American-based, single-source provider of intelligent automated material handling solutions that drive fulfillment productivity for retailers, manufacturers and logistics providers around the world. Through a broad portfolio of automation equipment, software, service and support, Intelligrated solutions give businesses a competitive edge and optimize operational performance through increased flexibility, efficiency and accuracy.
Intelligrated designs, manufactures, integrates and installs complete material handling automation solutions including conveyor, IntelliSort sortation, Alvey palletizers and robotics, and automated storage and retrieval systems - all managed by advanced machine controls and software. Intelligrated Software offers warehouse execution systems, a scalable suite of software that manages the entire fulfillment process, including equipment, labor and business intelligence, integrated with voice- and light-directed picking and putting technologies.
From concept to integration to lifecycle support services, Intelligrated delivers dependable, sustained distribution and fulfillment success, and maximum return on investment. Intelligrated backs every project with 24X7 multilingual technical support and access to lifecycle service through a network of national, regional and local service centers. For more updates, follow us on Twitter @Intelligrated.
Featured Product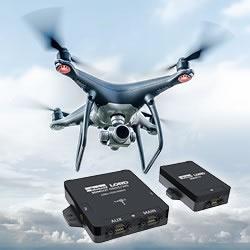 The C-series high performing inertial sensor package provides an OEM form-factor that is optimized for size and weight in Off Highway, Unmanned Ground Vehicles/Mobile Robots and Unmanned Aerial Systems. It's compact and low-profile anodized aluminum housing can be connected directly to a printed circuit board using a UART header or a Samtec FFSD ribbon cable and 2-56 fasteners.