In 2015, industrial design professionals downloaded over 140,000 CAD models of sensors and measurement systems from the TraceParts platform.
Saint-Romain, France; April 20, 2016 - TraceParts, a world-leading supplier of 3D digital content, has produced a detailed report on the CAD models of sensors and measurement systems downloaded according to product family, country and area of activity.

Several industrial design professionals no longer bother modeling existing parts and instead prioritize the use of parts whose CAD models are available and certified by manufacturers. In 2015, the number of CAD files downloaded from the TraceParts platform broke the 60-million bar, which confirms the trend seen in the world of computer-aided design.
For all the companies operating in the sensors and measurement systems market, this report highlights the growing number of new projects launched during 2015 according to country and industry, and provides detailed information about the component families chosen by designers, such as position sensors, photoelectric sensors, inductive sensors, pressure sensors and other measurement systems.
This 2015 report on sensors and measurement systems is available free of charge from the TraceParts website and follows the two previously published reports on bearings and electric and electromechanical parts.
The TraceParts activity report on sensors and measurement systems is available free of charge from the traceparts.com/pcs/sensors-measurement-systems/.
Industrial parts vendors looking for more information about publishing their 3D product catalog can contact TraceParts by email at info@traceparts.com or visit the www.traceparts.com website.
About TraceParts
TraceParts is one of the worlds leading providers of 3D digital content for engineering. As part of the Trace Group founded in 1989, the company has been providing powerful web-based solutions, such as CAD part libraries, electronic catalogs and product configurators. TraceParts also provides digital marketing services to help part manufacturers, software and computer hardware vendors promote their products and services and generate high-quality B2B sales leads.
The TracePartsOnline.net CAD portal is available free-of-charge to millions of CAD users worldwide. It provides access to hundreds of supplier catalogs and more than 100 million CAD models and product datasheets that are suited to Design, Purchasing, Manufacturing and Maintenance processes.
Featured Product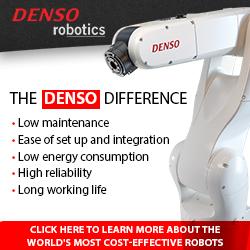 DENSO is the world's largest manufacturer - and user - of small assembly robots, employing over 17,000 of its robots in its own facilities. Over 77,000 additional DENSO robots are used by other companies worldwide. The compact, high-speed robots are used in traditional manufacturing sectors, as well as in advanced-technology applications in the medical, pharmaceutical and life sciences industries. Learn more about DENSO Robotics