Demonstrations include AdvancedTCA® and VPX systems and rugged single board computers and modules for ground control stations, vehicle control, and payload
LCR Embedded Systems and ADLINK Technology invite attendees to view our partner demonstrations of rugged systems and application-specific compute solutions in Booth 1176 at the upcoming XPONENTIAL 2016 event from May 2-5 at the Ernest Morial Convention Center in New Orleans, LA.

Sponsored by the Association of Unmanned Vehicle Systems International (AUVSI), XPONENTIAL 2016 will feature demonstrations of unmanned systems and robotics solutions from hundreds of technology companies. LCR Embedded Systems and ADLINK will highlight their rugged, extensively deployed, high-performance AdvancedTCA (ATCA) and VPX products that enable unmanned vehicle missions from start to finish. Live demonstrations will include:
A target tracking system on a compact, rugged commercial off-the-shelf (COTS) computer system using segmentation to determine object center-of-mass in real-time video processing;
Real-time streaming video using a high-performance AdvancedTCA embedded system;
And a high-performance 3U VPX system supporting four HD displays for graphics-intense applications.
From high-performance ground control based on the cost-efficient and widely deployed AdvancedTCA form factor, to rugged, portable control stations in airline carry-on sized cases, to VPX embedded systems and tactical LTE networks on board the vehicle itself, attendees will be able to view and learn about the rugged chassis, embedded systems, switches, SBCs, and modules that are at the heart of these applications. LCR Embedded Systems and ADLINK engineers and product managers will also be on-hand to discuss application requirements and how these rugged systems - deployed in over 350 ground control shelters - can facilitate missions involving multiple UAVs, real-time data collection and streaming video, and real-time control of cameras and weapons.
For more information on XPONENTIAL 2016, please visit
http://www.xponential.org/auvsi2016/public/enter.aspx
About ADLINK Technology - http://www.adlinktech.com
ADLINK Technology is enabling the Internet of Things (IoT) with innovative embedded computing solutions for edge devices, intelligent gateways and cloud services. ADLINKs products are application-ready for industrial automation, communications, medical, defense, transportation, and infotainment industries. Our product range includes motherboards, blades, chassis, modules, and systems based on industry standard form factors, as well as an extensive line of test & measurement products and smart touch computers, displays and handhelds that support the global transition to always connected systems. Many products are Extreme Rugged, supporting extended temperature ranges, shock and vibration.
ADLINK is a Premier Member of the Intel® Internet of Things Solutions Alliance and is active in several standards organizations, including PCI Industrial Computer Manufacturers Group (PICMG), PXI Systems Alliance (PXISA), and Standardization Group for Embedded Technologies (SGeT).
ADLINK is a global company with headquarters in Taiwan and manufacturing in Taiwan and China; R&D and integration in Taiwan, China, the US, and Germany; and an extensive network of worldwide sales and support offices. ADLINK is ISO-9001, ISO-14001, ISO-13485 and TL9000 certified and is publicly traded on the TAIEX Taiwan Stock Exchange (stock code: 6166).
About LCR Embedded Systems - http://www.lcrembeddedsystems.com
LCR Embedded Systems designs, develops, and manufactures enclosures, backplanes, and fully integrated systems for the aerospace and defense, commercial, rail, and industrial markets. Whether you have a rough back-of-the-envelope design idea and seek collaborative development with our engineering team, or a complete, formalized set of build specifications, LCR Embedded Systems will turn your product into reality.
Our electrical, mechanical, and manufacturing engineers can design and manage your build-to-spec or build-to-print requirements from obsolescence issues to cost reductions. Our US-based operations offer a cost-effective suite of design, manufacturing, integration, assembly, and testing capabilities.
In addition, we offer a portfolio of fielded and proven standard products (VITA and PICMG Standards; VME, VPX, ATCA, CPCI) that can be customized to meet your unique requirements from rugged enclosures and high-speed backplanes to legacy architectures.
LCR Embedded Systems is an AS 9100 C and ISO 9001:2008 certified company, with approved J-STD-001 Class 3, FOD and ESD programs in place.
Featured Product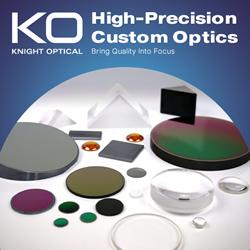 In the era of Industry 4.0, automation and machine learning drive the future. Knight Optical stands at the forefront, collaborating globally to supply precision optical components that power the robotics and automation sector. From UAVs, drones, and robotics to machine vision, LiDAR-driven car sensors, and renewable energy, our optics empower innovation. Optical components play an important role within the industry, including: Optical windows and domes safeguard systems in unmanned vehicles while preserving the field of view for cameras. Infrared lenses with aspheric surfaces elevate thermal imaging. Optical filters excel in machine vision, with colour glass, interference, and dichroic filters in our stock. Knight Optical provides stock components and custom solutions made to your exact specs. With every component undergoing rigorous metrology and QA checks before shipment, you are sure to experience true precision, innovation, and assurance.