New version of the shipborne UAS AR3 NET RAY is the first in class providing maritime radar capability
New Orleans, 27 April 2016 - The UAS producer TEKEVER (www.tekever.com) is launching at Xponential-AUVSI a new version of its AR3 Net Ray shipborne UAV with payload weight capacity increased, to allow integration of a maritime radar.

Pedro Sinogas, TEKEVER CEO: "With an extra payload capacity and the integration of a maritime radar, the goal of the company is to provide customers with unprecedented capabilities in a very small and affordable package".
Featured Product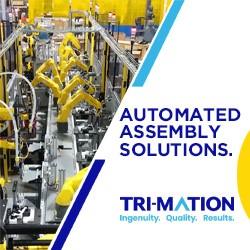 Tri-Mation reduces labor costs, improves accuracy, and production speed. Our integrators specialize in building automated assembly manufacturing systems for part production in any required volume or level of complexity.