- Presenting nSKY prototypes at the XPONENTIAL show in New Orleans - nSKY service will provide deliveries in 12 minutes
R. CORDOVA, Calif., April 26, 2016 /PRNewswire/ -- The Uvionix nSKY service is about to offer $3 UAV deliveries from vendors within 6 miles around you. Deployed directly at your local restaurant or retailer, the nSKY delivery aircraft can land anywhere you want, so no need to drive to the coffee shop, pick-up a meal or visit the drugstore anymore.

Challenging the established logistics industry, the nSKY technology is expected to foster a whole new field of business models - without the traditional store forefront, independent of location and focusing on value delivered to the customer. Existing businesses can benefit by getting a second revenue stream and wider reach with no costly investments or special infrastructure.
The nSKY UAVs feature an energy efficient dual coaxial design, enabling longer transport distances at higher velocity, compared to the traditional quadcopter. The fully protected propeller blades and the compact 27" circular footprint make the vehicle very consumer friendly and safe. And since safety is the cornerstone of nSKY, every UAV is equipped with an emergency parachute and a 5 Level Inter-Module Monitoring System for the highest level of fault tolerance en-route.
Bringing the UAV under clear sky and pressing a button on a smartphone - is all it takes to deploy the aircraft. This quick and simple procedure, typically performed by a regular employee of the vendor, is complemented by the quick-swap batteries, thereby bringing the re-deployment downtime of a UAV to a minimum. Still while not in service the nSKY UAVs will be stored on purpose designed space-saving Racks, also serving as charging stations for the batteries.
A centralized component of the system - the nSKY Control Center manages the fleet, providing optimal 4D route generation, restricted areas, collision avoidance and world elevation map. The autonomous flight of the aircraft is monitored by a trained pilot to ensure safety during all takeoff and landing operations.
The nSKY system is under active development and expected to be deployment ready in 2017.
Uvionix Aerospace Corp. is presenting its nSKY prototypes at the XPONENTIAL UAV show in New Orleans - 2nd-5th May 2016. For more information visit our XPONENTIAL 2016 Online Press Kit: http://xponential.vporoom.com/Uvionix.
Featured Product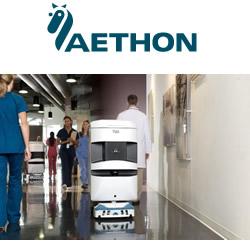 TUG automatically picks up and drops off carts, eliminating the labor that would otherwise be needed to load the robot. It also communicates with your IT system to automate the dispatching of the robot fleet and update the inventory system when materials are moved.