A Guide to Security Requirements for Various Classes of IoT Devices and Systems
Icon Labs (www.iconlabs.com), a leading provider of security solutions for IoT and embedded devices, today announced that this whitepaper for IoT Device Engineers and manufacturers is now available at http://www.iconlabs.com/prod/guide-security-requirements-iot-devices-and-systems

Everyone knows that security is critical for IoT devices but how much is needed for various types of devices? Obviously control systems in a nuclear reactor need a higher level of security than that in a home toaster. But how does an engineer decide?
Icon Labs has worked with numerous customers, industry experts and analysts to develop guidelines to make this security design decision a little simpler. The four classes of devices in this whitepaper range from small, Class 1 (8 and 16 bit MCUs) devices that have very little room for additional security protocols to complex Class 4 devices running on embedded Linux, Android, or a full-featured RTOS supporting multiple networking protocols.
"Determining the details of security capabilities and features to be implemented for a given device depends upon the available memory, processing power of the core(s), interfaces, attack vectors, threat analysis, and ultimately, business trade-offs," according to Icon Labs President and Co-Founder Alan Grau. "Companies need to have a consistent approach to security no matter the class of device. Using this framework allows a view of security that is rational and easily implemented."
"Providing adequate security for Internet connected devices is extremely important," says Steve Hoffenberg, director and industry analyst with VDC Research. "Many organizations deciding to build new connected devices can benefit from insights provided by experienced industry participants to improve upon the security capabilities of their existing products and technologies."
About Icon Laboratories, Inc.
Icon Labs, a 2014 Gartner "Cool Vendor" and 2015 Gartner "Select Vendor", is a leading provider of security solutions for IoT and embedded devices, including the award-winning Floodgate Defender and Floodgate Security Framework. Founded in 1992, Icon Labs is headquartered in West Des Moines, Iowa. For more information, visit www.iconlabs.com.
Featured Product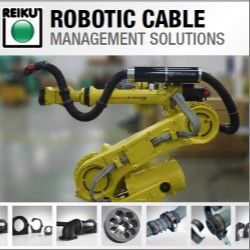 REIKU's Cable Saver™ Solution eliminates downtime, loss of revenue, expensive cable and hose replacement costs, maintenance labour costs. It's available in three sizes 36, 52 and 70 mm. All of the robots cables and hoses are protected when routed through the Cable Saver™ corrugated tubing. The Cable Saver™ uses a spring retraction system housed inside the Energy Tube™ to keep this service loop out of harms way in safe location at the rear of the Robot when not required. The Cable Saver™ is a COMPLETE solution for any make or model of robot. It installs quickly-on either side of the robot and has been tested to resist over 15 million repetitive cycles.