The IdeaHub is a cross sector, open innovation platform that connects visionaries worldwide with funding and support from global corporations.
London, U.K. - 2 May 2016 -Innovation platform, The IdeaHub, is once again recruiting robotics and software innovators worldwide to take on the challenge of improving the way we work and interact with the next generation of industrial robots. Working on behalf of ABB Robotics, IdeaHub will help successful applicants pitch their ideas and secure uniquely tailored support packages to maximise their venture's commercial potential, including investment, mentoring and access to cutting edge hardware.

The IdeaHub is a cross sector, open innovation platform that connects visionaries worldwide with funding and support from global corporations. In 2015 they ran their first programme for ABB Robotics, attracting over 130 applicants with 12 finalists selected for a pitch day in London, with 6 entrepreneurs receiving an offer of support. For 2016 they are partnering with ABB Robotics once again to bring more solutions to solve three core challenges in the world collaborative industrial robotics:
1.) Simplicity: How to simplify robotics
2.) Intelligence: How to enable robots to learn and apply that learning
3.) Digitalization: How smart connectivity will enhance digital factories.
Much more information can be found at www.theideahub.co.uk/challenges.
The IdeaHub platform launches today and is open for applications until 30th June 2016. Successful applicants will get the chance to pitch their ideas directly to ABB Robotics at an IdeaHub event in August 2016. There is no limit to number of offers that might be made, which can include funding, access to robots, technology and commercial support as appropriate to the needs of their business.
Simon Blair, from the IdeaHub said, "This is a great opportunity for robotics and software innovators and entrepreneurs around the world to collaborate with a leading robotics company and take their idea to the next level. All negotiations are directly between successful applicants and ABB Robotics, so outcomes can be structured to the specific needs of each successful venture. Our programme aims to compliment your business and not restrict it in anyway - we don't operate an incubator period, we don't set any pre-defined terms and we don't insist on equity sacrifice as part of any deals borne out of the programme."
Applying to the IdeaHub takes a few minutes and only requires information already in the public domain. Visit www.theideahub.co.uk for more information and further
Featured Product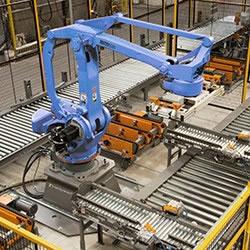 Intelligrated has deep experience implementing robotic solutions that work seamlessly with existing automated equipment and is recognized by the Robotic Industries Association as a certified robot integrator. The company's extensive robotic integration capabilities include solution development, design engineering and project management, complete manufacturing capabilities, installation and commissioning, and lifecycle support services.