Elistair announces the launch of its new tethered station for drones, HIGH-T, this week at XPONENTIAL 2016, the main international trade show dedicated to drones and industrial robotics (New Orleans, May 2-5, 2016).
Lyon, France, May 2, 2016 - Elistair announces the launch of its new tethered station for drones, HIGH-T, this week at XPONENTIAL 2016, the main international trade show dedicated to drones and industrial robotics (New Orleans, May 2-5, 2016). The company also announces the signature of a partnership agreement with DRONE VOLT for exclusive distribution in Europe.
Expanding its line of tethered stations for drones, already adopted by major clients such as Aéroports de Paris and Thalès, as well as security companies, Elistair has developed a new unit that is ultra-compact, lightweight, and enhanced with reinforced resistance to outdoor conditions.
This new tethered station, HIGH-T, enables lightweight civilian drones to benefit from unlimited flying time and a secured flight zone. Lighter and more compact than the companys SAFE-T system, HIGH-T can be carried and deployed quickly and easily by a single person.
This new tethered station is therefore well suited to the needs of security companies, police forces, fire-fighters, and industrialists, providing persistent aerial surveillance capacity to handle crisis management situations, infrastructure protection, and continuous live event broadcasting.
HIGH-T is comprised of a 50-meter-long, Kevlar® reinforced micro-wire, weighing just 600 grams (21 oz.), providing a maximum of 1500W power to the drone, along with an integrated module to replace the drones battery, and a ground station.
Shipping in mid-July, 2016, HIGH-T is now available for pre-order, with a selling price starting at €11,500 (excluding tax).
Distribution partnership with DRONE VOLT
Elistair has signed a European-wide distribution agreement for HIGH-T with DRONE VOLT, a company that specializes in the design and sales of civilian drones for professional applications.
Guilhem de Marliave, CEO and co-founder of Elistair, explains: "We needed a larger sales force to promote our new HIGH-T tethered station. Thanks to this partnership with DRONE VOLT, a major player in the market, we are going to be able to grow our sales in France and around Europe, while benefiting from their expertise and commercial potential."
Dimitri Batsis, president of DRONE VOLT, adds: "I am very pleased about our partnership with Elistair. Thanks to the HIGH-T tethered station, our Z18 UF surveillance drone can fly for several days non-stop. This innovative application gives us an opportunity to enter new markets."
About Elistair www.elistair.com
Founded in 2014, Elistair is startup specializing in civilian drones. The company designs, produces, and commercializes tethered drone stations for civil security, intervention teams, security companies, and large industrial companies. Leveraging a patented micro-wire technology, the solutions developed by Elistair are deployed for long duration aerial observation missions and emergency telecommunications missions. The company currently sells its products in Europe, South America, and Asia.
Elistair organized itself and grew quickly, and is now one of the leading tethered drone companies in France, currently expanding internationally. With support from DDrone Invest, an American investment fund, Elistair won the Alliance competition in San Francisco, and was selected by the European Horizon 2020 program.
About DRONE VOLT: www.dronevolt.com
Created in 2011, and established in France, in Canada, in Denmark, in the United States and in Switzerland, DRONE VOLT is specialized in manufacturing and marketing civilian drones for professional use. As a complete partner, the company provides solutions to its customers for critical tasks and applications including service of products and the training of pilots. The young innovative firm, which had 3, 7 million euro revenues in 2015 (+111 % growth y-o-y), is the leader in the European broadcasting and service drone industry. It also provides the administration and the execution of aerial photography and videography. Among its customers, the Company includes CERN, FRANCE TELEVISIONS, the Police station of the Air Transport (GTA), SPIE, TF1, FREEWAY PROD, etc. DRONE VOLT is qualified as an "Innovative Entreprise" by Bpifrance.
Featured Product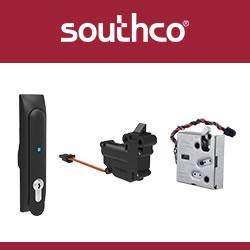 Many robotics engineers need to securely mount and latch sensitive electronic components in their robotics applications; Southco is able to help reduce theft and vandalism with our proven and reliable access technologies. Learn how Southco can help secure your robotics, or other smart city application, from theft and vandalism.