A single operator can supervise five TerraMax UGVs to increase troop protection and operational efficiency
OSHKOSH, Wis.--(BUSINESS WIRE)--Oshkosh Defense, LLC, an Oshkosh Corporation (NYSE:OSK) company, will feature its TerraMax™ unmanned ground vehicle (UGV) technology equipped on a MRAP All-Terrain Vehicle (M-ATV) during the annual Association for Unmanned Vehicle Systems Internationals (AUVSI) conference, XPONENTIAL in New Orleans from May 2-5, 2016.

The Oshkosh TerraMax UGV technology delivers both force protection and force multiplier capabilities to the modern battlefield. Vehicles outfitted with the TerraMax system provide a force protection advantage by removing operators from the vehicles entirely, and creating a safe standoff distance from threats such as improvised explosive device (IED) attacks. The TerraMax UGV technology can enable a traditional tactical vehicle, such as the M-ATV or the Family of Medium Tactical Vehicle (FMTV), into a fully integrated autonomous vehicle system that can serve as a force multiplier by enabling a single operator to supervise up to five unmanned vehicles during convoy, reconnaissance and route clearance operations.
"With TerraMax, our military customers can enable traditional light, medium and heavy manned vehicles into UGVs to reduce exposure to threats for troops and minimize the manpower required for logistics operations," said John Beck, chief unmanned systems engineer for Oshkosh Corporation. "TerraMax UGV is a next-generation battlefield system with an open system architecture to easily integrate additional capabilities on to any tactical vehicle."
The Oshkosh TerraMax UGV technology has proven capable of being seamlessly integrated into convoy operations during live-force military evaluations and has been tested in virtually every manner of tactical environment. Unlike remote-controlled or tele-operated systems, TerraMax UGVs leverage the latest robotics technology that enables the vehicles to perceive and navigate complex, off-road environments entirely unmanned, with minimal operator supervision. Oshkosh has the engineering, production, installation and support capability to enable the military to quickly transition UGV technology from concept to combat zone.
John Beck will be giving a presentation on the TerraMax UGV technology and its applications at XPONENTIAL on May 2 at 2:30 pm local time. Oshkosh Defense leadership will be available to discuss Oshkosh TerraMax UGV technology and the companys broad portfolio of vehicles, technologies and services at AUVSIs XPONENTIAL at booth #1663.
About Oshkosh Defense
Oshkosh Defense is a leading provider of tactical wheeled vehicles and life cycle sustainment services. For decades Oshkosh has been mobilizing military and security forces around the globe by offering a full portfolio of heavy, medium, light and highly protected military vehicles to support our customers missions. In addition, Oshkosh offers advanced technologies and vehicle components such as TAK-4® independent suspension systems, TerraMax® unmanned ground vehicle solutions, Command Zone™ integrated control and diagnostics system, and ProPulse® diesel electric and on-board vehicle power solutions, to provide our customers with a technical edge as they fulfill their missions. Every Oshkosh vehicle is backed by a team of defense industry experts and complete range of sustainment and training services to optimize fleet readiness and performance. Oshkosh Defense, LLC is an Oshkosh Corporation company [NYSE: OSK].
To learn more about Oshkosh Defense, please visit us at www.oshkoshdefense.com.
About Oshkosh Corporation
Oshkosh Corporation is a leading designer, manufacturer and marketer of a broad range of access equipment, commercial, fire & emergency, military and specialty vehicles and vehicle bodies. Oshkosh Corporation manufactures, distributes and services products under the brands of Oshkosh®, JLG®, Pierce®, McNeilus®, Jerr-Dan®, Frontline™, CON-E-CO®, London® and IMT®. Oshkosh products are valued worldwide by rental companies, concrete placement and refuse collection businesses, fire & emergency departments, municipal and airport services and defense forces, where high quality, superior performance, rugged reliability and long-term value are paramount. For more information, please visit www.oshkoshcorporation.com.
Featured Product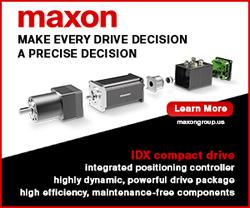 The compact brushless EC-i motor combined with an EPOS4 positioning controller delivers a highly dynamic, powerful drive package with field-oriented control (FOC), high efficiency, and maintenance-free components in a high-quality industrial housing. The maxon IDX drives are suitable for use across the entire speed range (from standstill to maximum speed) and have an extremely high overload capability. Together with a positioning controller, the integrated sensor (single turn) enables absolute positioning.