AeryonLive delivers low-latency video, telemetry, and UAS fleet data to enable real-time decision making and compliant, scalable enterprise UAS deployments.
Aeryon, the leader in small unmanned aerial systems (UAS) for commercial, public safety and military applications worldwide, today introduced AeryonLive, an integrated Software-as-a-Service (SaaS) platform for enterprise UAS deployments. Comprised of complementary web-based solutions - AeryonLive Video and Telemetry, and AeryonLive Fleet Management - the platform will evolve to offer additional capabilities throughout 2016.

Aeryon is bringing this multifaceted SaaS solution to market to enable more scalable and efficient UAS deployments in commercial and public safety segments. AeryonLive ensures the right information gets to the right people, at the right time, to enable prompt and accurate decision making - especially for large, geographically-dispersed fleets.
AeryonLive Video and Telemetry delivers low-latency (less than 5 seconds glass-to-glass), live video streaming with a real-time readout of critical aspects of aircraft location and performance. Ideal for first responders and critical infrastructure inspectors, the video can be delivered to any screen (from a monitor in a command center, to a smartphone in the field) without the need for client applications, and extends control of certain aspects of the video feed to remote viewers.
"As a first-response agency, it is imperative that our chain of command sees what the SkyRanger sees, without delay. Watching the live video as well as telemetry gives everyone involved the critical data thats needed when responding to incidents. In the three months of trialing AeryonLive, it has become an indispensable asset to our UAS operations." said Mark Fairclough, Station Manager, Greater Manchester Fire and Rescue Service.
AeryonLive Fleet Management provides an online connection to the UAS to deliver deep, subsystem-level analytics on all aspects of usage and performance of the fleet. This enables UAS operators to automate record-keeping and maintain compliance with airspace regulators and insurers. Aeryon is liaising with Global Aerospace, the largest underwriter of aviation insurance in the world, to offer competitive terms of insurance to operators who manage their fleet and reporting data using AeryonLive Fleet Management.
Jeremy Prine, Logistics Manager for Talon Aerolytics said, "AeryonLive Fleet Management gives me the real-time, status of our aircraft and sub systems as the fleet data is automatically uploaded. This enables me to provide proactive solutions for our operations team, while minimizing inefficiencies and pilot down time. In addition to lowering the inherent cost associated with flight data management, AeryonLive Fleet Management eliminates the logistics headaches associated with traditional UAS systems."
"Insuring small UAS for commercial use is an emergent opportunity for our business, and today the absence of real data makes it hard to assess risk of loss and write policies commensurate with that risk," commented Arthur Meerdink, AVP at Global Aerospace Canada. "We rely on the operator to provide us with an accurate record of the status of the aircraft and the operating environment which may have contributed to the loss. We view UAS operators who utilize AeryonLive or data management systems as presenting more informative risk parameters than the typical UAS operator, and our policy terms and conditions will reflect this reality."
AeryonLive is available, globally, to Aeryon SkyRanger customers today. AeryonLive Fleet Management subscriptions begin with a 90-day free trial, which can be accessed at live.aeryon.com.
For more information about AeryonLive, visit http://www.aeryon.com.
This week, Aeryon will be showcasing AeryonLive at its booth #2313 during AUVSIs Xponential 2016, in New Orleans and WREX 2016 in Orlando. Scheduled demos will include live feeds from four different countries.
About Aeryon Labs Inc.
Aeryon Labs is the premier manufacturer of small Unmanned Aerial Systems (sUAS) which are at the center of major world events and international media stories. The company is the trusted partner of civil and military customers, resellers, and other commercial business partners around the globe. Aeryon Labs is headquartered in Waterloo, Ontario, Canada. Field-tested and mission-proven, Aeryon sUAS set the standard for immediate aerial intelligence gathering by anyone, anywhere, anytime, for a wide range of military, public safety and commercial applications.
Featured Product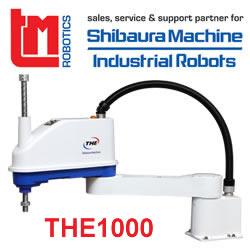 Designed for assembly and inspection applications in the electronics equipment and automobile components industries, the THE600 SCARA is a powerful automation tool. Advancing from the specifications of the existing THE400 SCARA, the THE600 has been developed to meet growing demand for fast-cycle automation. The THE600 model includes improvements in synchronised control and tracking precision. The THE600 is compact in design and offers improved high speed, with 60 per cent higher payload capacity than competing SCARA models in the same price range, making it the price-to-performance leader. Affordable price, impressive performance.