Aeryon SkyRanger sUAS delivers integrated Wave Relay® networking technology, enabling extended range UAS operations, real-time sharing of video, and beyond-line-of-sight network coverage to ground-based personnel.
Aeryon, the leader in small unmanned aerial systems (sUAS), and Persistent Systems, LLC ("Persistent Systems"), the leader in Mobile Ad hoc Network (MANET) technology and developers of the Wave Relay® system, today announced the integration of Wave Relay® technology into the airframe of the Aeryon SkyRanger sUAS. This integration will enable Command and Control (C2) and video downlinks from the sUAS into a Wave Relay® MANET.

Traditionally, sUAS operators have relied on WiFi (or similar) networking standards to deliver line-of-sight connections from ground control station (GCS) to aircraft. With Wave Relay® now integrated, the Aeryon SkyRanger offers a powerful set of new capabilities to Military, Public Safety, and Commercial UAV operators, including:
Eliminating the need for a dedicated base station to provide the wireless link from the operator to the aircraft. This enables operators to deploy more flexibly and with less equipment.
Operating the aircraft as a relay node within the MANET, enabling an "over the hill" communications link between ground-based personnel who would otherwise be out of radio contact, to a range of 15 mi (24 km) between the ground-based teams.
Extending the operational range of the aircraft to the maximum range of the MANET.
Permitting all personnel within the MANET to view the video and telemetry feeds from the aircraft.
"Our partnership with Persistent Systems will bring significant benefits to our mutual customers and help them to do their jobs more safely and efficiently", said Dave Kroetsch, President and CEO, Aeryon Labs.
Dr. Herbert Rubens, CEO of Persistent Systems, offered a similar perspective, "Persistent Systems and Aeryon share a deep engineering heritage and a commitment to deliver to our customers, in all sectors, flexible and robust networking solutions. We are confident that this collaboration will bring a unique, best-of-breed solution to market."
For more information, contact sales[at]aeryon.com, or visit both companies at AUVSIs Xponential 2016, Booth #2313 (Aeryon Labs) and Booth #1547 (Persistent Systems).
About Aeryon Labs, Inc.
Aeryon Labs is the premier manufacturer of small Unmanned Aerial Systems (sUAS) which are at the center of major world events and international media stories. The company is the trusted partner of civil and military customers, resellers, and other commercial business partners around the globe. Aeryon Labs is headquartered in Waterloo, Ontario, Canada. Field-tested and mission-proven, Aeryon sUAS set the standard for immediate aerial intelligence gathering by anyone, anywhere, anytime, for a wide range of military, public safety and commercial applications.
For more information contact us.
Media Contact: Andrea Sangster, media[at]aeryon.com | +1 519.489.6726 x360
About Persistent Systems, LLC
Headquartered in New York City since 2007, Persistent Systems, LLC is a global communications technology company which develops, manufactures and integrates a patented and secure Mobile Ad Hoc Networking (MANET) system: Wave Relay®. The companys industry leading R&D team has designed wireless networking protocols to support their cutting edge Wave Relay® system and technology. Wave Relay® is capable of running data, video, voice and other applications under the most difficult and unpredictable conditions. Their suite of products is field proven and utilized in Commercial, Military, Government, Industrial, Agriculture, Mining, Oil and Gas, Robotics, and Unmanned System markets.
Please visit http://www.persistentsystems.com to learn more. Follow Persistent Systems on Twitter to get updates on the latest developments @pswaverelay.
To schedule an interview with Persistent Systems, LLC please contact Pulse Creative PR Director: Yanina Erman at yanina[at]pulse-creative.com or directly via 917.650.5519.
Featured Product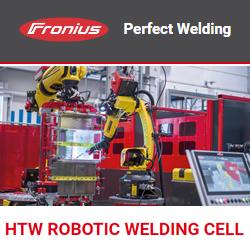 Modular, collaborative, and flexible: the "Handling-to-Welding" robotic welding cell joins parts of different geometries and materials. The task is carried out by two robots - the handling robot positions the workpieces, the second robot performs the welding. Depending on the cell configuration, lock gates are available for the inward and outward transport of parts. Furthermore, various positioners, a TCP measurement system, a torch cleaning system, a gripper station, and a contact tip change system are also possible.