The robotic industry is booming in China, there are thousands of local robotic companies jump into the market, both of industrial robots and service robots.
BEIJING, May 9, 2016 /PRNewswire/ -- LeiFeng Scientific Technological Corporation, one of China's leading technological companies, presents information regarding the robotic industry in China.

The robotic industry is booming in China, there are thousands of local robotic companies jump into the market, both of industrial robots and service robots.
China cannot only be seen as a big supply of low-wage workers, but also a source of high technology with millions of start-ups in different areas, among which robotics is one of the hottest trends. China is now shifting its appetite to robots, a transition that will have significant consequences for China's economy and the world.
Here are some Chinese service robot companies that cannot be overlooked.
1. Segway
April, 2015, Beijing-based company Ninebot announced that not only will it acquire rival Segway, but it has also scored $80 million in funding from investors including Xiaomi, Sequoia Capital, and Shunwei Foundation. The deal is a little bit ironic because Ninebot was named after Segway and its founder Dean Kamen in 2014.
After the acquisition, Segway will become a wholly owned subsidiary of Ninebot, but the two brands will remain separate.
On the latest CES, the new Segway, which was developed by Ninebot (with assists from Intel and Xiaomi), looks almost nothing like the original Segway. Sure, it has got Segway's self-balancing technology, but in a considerably smaller form-factor than the original personal transportation device. This one stands just a few feet tall. It also has what looks like a head and face with two LED eyes that seem to blink and smile. More like a robot than just a hover board.
2. Turing Robot
As a start-up AI robot company in China, the founders of Turing Robot possess over 10 years of experience in AI research and a big dreams in service robot area: making every family on earth has their own personal robot one day. This dream seems not far as the rapid growth of the markets and the company itself.
As the Most Intelligent Robot in the Chinese Semantics, Turing Robot serves as the leading global platform for Chinese semantic and cognitive computing. With an accuracy rate up to 94.7% in terms of Chinese semantic recognition, Turing Robot can provide intelligence-based software and hardware products with AI services covering Chinese semantic analysis, natural language and dialogue processing, DeepQA and more. Turing Robot has established a proven track record in many hardware and software fields, including domestic service robots, commercial service robots, toy robots for children, intelligent customer service systems, intelligent vehicle systems, and smart home control systems.
With the publication of Turing OS in late 2015, Turing Robot has become a company providing the world's first AI robot operating system that possesses over 70% market shares in China. Turing OS is an intelligent robot operating system built on the basis of simulating the thinking mode and emotional recognition of human, which provides natural and friendly multimode human-machine interaction methods. It contains a thinking enhancement engine, an affective computing engine and a self-learning engine.
3. Ecovacs
Like the world famous irobot company, Ecovacs is a Chinese robot company that focus on cleaning robots.
The new ECOVACS "Winbot" does for windows what the Roomba does for floors. Directions for use are simple: Switch the robot on, place it on the window, press start and watch it do your dirty work. For windows above ground level, ECOVACS recommends its customers purchasing the Safety Pod, essentially a cord that tethers the robot to home if the machine somehow falls. The robot can self-navigate the entire surface of a window, ensuring a spotless clean quickly and efficiently.
Of course, ECOVACS also makes a robot for floors, the Deebot, as a competitor to the Roomba.
4. UBTECH
UBTECH Robotics is a high-tech enterprise engaging in the R&D, manufacture, as well as promoting and popularizing robot, dedicating to commercialize humanoid robot, making it walk out of the research institution and become available to ordinary people. UBTECH is working to create the intelligent robot that can interact with people, help and serve people.
Designed as a robotic assistant to make "household life easier," the new product of UBTECH, Alpha 2, can take pictures and videos, make calls, check voice mails, read and send texts and emails, and control WiFi-enabled office equipment. Alpha 2 can also post social media accounts using voice commands.
Unlike some of the other companion robots set to hit the market, such as Jibo and Buddy, Alpha 2 actually has legs to move around. You may see it looks similar to the world famous "NAO" robot, but in a smaller version.
5. Rokid
Rokid is a deep learning technology start-up company which was named as a 2016 CES Innovation Awards Honoree in the Home Audio/Video Components and Accessories category for its first product, "Rokid", a quite creative smart home product.
As a smart family technology device leaning on artificial intelligence and deep learning, Rokid proactively delivers information and performs tasks for the entire family through engaging two-way exchanges. From turning on the lights and playing your favorite song to providing today's weather or reminding you about an appointment, Rokid can interact with each family members and connect everyone together.
Featured Product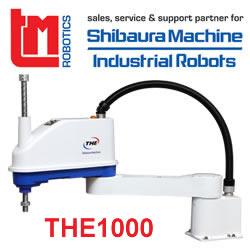 Designed for assembly and inspection applications in the electronics equipment and automobile components industries, the THE600 SCARA is a powerful automation tool. Advancing from the specifications of the existing THE400 SCARA, the THE600 has been developed to meet growing demand for fast-cycle automation. The THE600 model includes improvements in synchronised control and tracking precision. The THE600 is compact in design and offers improved high speed, with 60 per cent higher payload capacity than competing SCARA models in the same price range, making it the price-to-performance leader. Affordable price, impressive performance.