Warehouse Robots are designed specifically to cater to functions including storage, sorting, assembling and disassembling, trans-shipment, distribution, replenishment, packaging, labeling, inspection, consolidation and so on. Mobile robots such as Automated Guided Vehicles (AGVs) and Fixed Robots including Gantry, Articulated, and so on are incorporated at various locations in a warehouse and these functions in coordination to serve the aforesaid applications.
In last 10 decades Warehouse Robotics has found to be growing and expanding their Function in various different Industries. Broadly, Robotics can be classified into Industrial Robotics and Service Robotics.

Warehouse Robotics is now being preferred over manual workers for carrying out tasks such as sorting, profiling and dispatching products since it promises a higher efficiency rate and customer satisfaction while reducing operating costs in the long run.
Market Application:
Warehouse Robots are increasingly being integrated into industries that possess aspects like storage, transportation and dispatch in their business. These robots are primarily designed to aid in warehousing and manufacturing processes like palletizing, packaging, storing, replenishment, assembling, disassembling, consolidation, sortation, labeling, inspection and transporting products, etc.
Avail Sample PDF @ http://industryarc.com/pdfdownload.php?id=1284
MARKET TRENDS:
According to IndustryARC, the overall Sales of Warehouse Robotics Market shall grow at 11.3% CAGR during the forecast period 2015-2020.
Segment: Research has concluded that in the past decade, the market is well established in the E-Commerce Sector as well as Robotic Automation in the Industry has observed a strong growth. The accounts suggest, the growth was 179,000 Industrial Robots Shipped and Installed in 2013which is a growth of 12% compared to previous year. It is witnessed that the growth of Industrial Robotics (which is projected to be very potential by 2020) is directly proportional to the Warehouse Robotics Market. And lastly, Service Robot Sector is expected to grow at a rate of 25% to 30% for the next two or three years of the forecast period.
Region: U.S., China, India, Japan, France and others are the largest and highest growing markets for the Global Warehouse Robotics Market as they are upgrading the technology, sophisticated automation and giving rise to the robotic functions. Japan is witnessed as the current largest market.
Market Drivers of this market are noted to be: reduced space utilization, reduced labor turnover, improved product quality, improved production output, reduced operating costs and improved product flexibility.
REPORT SCOPE: Market Segmentation:
The Warehouse Robotics Market is broadly divided into four types depending on various factors like:
1. By Type: Fixed Robot and Mobile Robot with further sub segments in each.
2. By Function: Storage, Sorting, Distribution, Inspection and Others.
3. By Industry: F&B, Defence, Airport, Ports and Others.
4. By Geography: North America, South America, Europe, APAC and RoW.
Key Players:
Online retailers such as Amazon.com have massive warehouses that house all the products which are on sale on their website, and the process of integrating robotics with such warehouses has already begun. Amazon acquired Kiva Systems, an automation systems company that manufactures mobile robotic fulfilment systems for $775 Million. This acquisition was the second largest in the history of Amazon, the first being the acquisition of Zappos.com, the online shoe retailing website that was bought for $895 Million. Few companies mentioned in the report are:
• Toshiba Machine Co., Ltd.
• Yamaha Robotics
• Kiva Systems, Inc.
• ABB Ltd.
• Eaton Corporation Public Ltd.
• Siemens AG
Make an Inquiry @ http://industryarc.com/inquiry-before-buying.php?id=1284
Featured Product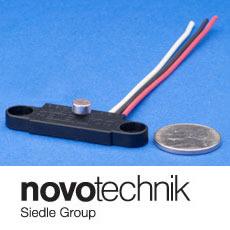 Vert-X 05E Series of dual angle/speed sensors. The series features easy mounting in small and narrow spaces with a 5 mm body depth and mounting flanges with metal inserts. The sensors make measurements only 6 mm from edge of product for close-to-wall measurement applications. Vert-X 05E Series sensors measure angles from 0 to 360°, rotational speed and direction with repeatability to 0.1°.