-San Diego-based systems integration company employs drones to solve the nation's most complex problems-
SAN DIEGO, Calif. (May 12, 2016) ¬ Today, entrepreneur and U.S. Navy veteran Andy Von Stauffenberg, announced the launch of VStar Systems Inc. (VStar) after 12 years of experience in aerospace and systems engineering. A multi-dimensional systems integration company specializing in unmanned and robotic systems, VStar creates custom solutions for clients who have a unique set of problems that require advanced technologies and out of the box thinking.

Von Stauffenberg started his career in the U.S. Navy as an Aviation Electrician. After eight years with the Navy, he joined the corporate world and accepted a position at Northrop Grumman. Here he quickly rose through the ranks and eventually led the overall technical team as the RQ-4B Global Hawk Program Deputy Chief Engineer and Block 30 Chief Engineer, overseeing all technical aspects of the product life cycle, including the development, production and sustainment efforts for the United States Air Force. Bringing extensive knowledge in the fields of remote sensing, systems engineering, flight operations, system test and project management, Von Stauffenberg founded VStar Systems Inc. in 2015 to help clients discover innovative solutions to complex problems that can be solved with unmanned and robotic system technologies.
"I started VStar because I noticed a discrepancy in the industry," said Andy Von Stauffenberg, CEO of VStar Systems. "There are hundreds of technology providers in the UAV space, and it is usually up to the customer to determine how to best utilize the technology in order to solve their unique problem. VStar was born as a solutions provider; we bridge this gap between the technology and the consumer so that consumers can focus on their primary business rather than devising a way of integrating the technology into their business model."
This simple but revolutionary thinking has earned Von Stauffenberg recognition throughout the industry. In 2016 alone, Von Stauffenberg was a speaker at the INCOSE Regional Mini Conference, the sUAS Expo in San Francisco where he presented a high-level overview on commercial UAVs, and served as a panelist at the USI Conference, offering his predictions on how UAS technology will evolve in the future. As UAVs become more commonplace and highly regulated, society will look past technology providers and turn to experts like Von Stauffenberg to provide holistic solutions to complex issues and develop a means for these systems to integrate into applicable use for consumers across industries.
Assembling a team of top engineering talent and various vendors, Von Stauffenberg recently recruited George Guerra, former Vice President of HALE Enterprise Strategic Ventures in the Unmanned Systems division of Northrop Grumman Aerospace Systems, to join VStar as a strategic advisor. VStar's clients include both government and commercial entities looking at utilizing a drone-based solution.
For more information about Von Stauffenberg and VStar, visit vstarsystems.com.
About VStar Systems Inc.:
VStar Systems Inc. is a solutions provider that integrates unmanned or robotic systems to create custom solutions to the various problems we face today. By focusing on the full circle integration of components including hardware, software, as well as the technology, processes and human aspects, VStar is able to provide real-time and applicable solutions to clients' issues at hand. Throughout a project, VStar utilizes a multi-disciplinary team to address the entire end-to-end architecture¬ implementing a lifecycle viewpoint to do more than understand how the system will be deployed, but how it will be supported, maintained, upgraded and eventually discarded. Combining the power of Systems Engineering with Multi-Domain Modeling and Simulations, VStar specializes in:
• Unmanned/Autonomous Systems
• Robotics
• Command and Control Systems/Ground Stations
• Intelligence, Surveillance, Reconnaissance (ISR)
• Remote Sensing
• System of Systems/ Distributed Systems
• Covert Systems
For more information on VStar Systems Inc., visit vstarsystems.com. Become a fan at Facebook.com/VStarSystems or follow on Twitter @VStarSystems.
Featured Product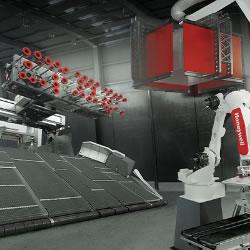 Challenges on the loading dock are characteristic of greater pressures from the rise of e-commerce. Loading and unloading freight from trailers, trucks and shipping containers are arduous, repetitive tasks plagued by high turnover. Even with regularly available staff, manually unloading freight and the constant lifting and twisting results in fatigue and inconsistent, declining productivity. Robotics capable of fully automating unloading tasks bring a new paradigm to the dock. High performance and flexibility push unloading from a labor-heavy, manual chore to an automated, refined process. High-performing DC workers can take more desirable positions, with relief from unpleasant work conditions. Management gets to replace uncertainty and staffing challenges with a reliable, automated process, with data to fuel continuous improvement.