Former Yamaha Robotics exec brings more than thirty-five years of U.S. market experience to TM Robotics
ELK GROVE VILLAGE, IL - SEPTEMBER 2, 2015 - TM Robotics, partnered with Toshiba Machine, announced today it has hired Doug Dalgliesh as Business Development Manager for the United States. In his new role, Dalgliesh will be responsible for managing and developing TM Robotics distributor network as well as identifying and nurturing new markets for the company.

A graduate of Georgia Tech with more than thirty-five years of industrial robot experience, Dalgliesh has significantly established and grown several well-known robotics companies in the United States. At Rankin Corp., the North American master distributor for the Yamaha Motor IM Americas robot line, Dalgliesh led the company from being a non-existent player to becoming one of the top assembly robot suppliers in the market by selling through a distribution network he built from the ground up. Previously, while at Rankin Automation, a regional provider of industrial automation solutions, he redirected the companys focus from a traditional fluid power distributor to an automation products supplier, driving a significant growth in sales. At KEBA Corporation, an Austrian automation controls manufacturer, Dalgliesh introduced its product line to the U.S. market.
Given this experience, Dalgliesh is well equipped to cultivate TM Robotics distribution network and intends on doubling its number of partners by the end of 2015. As well, Dalgliesh has plans to build the sales and account management teams into double-digit growth.
"Toshiba Machine is the only company providing a comprehensive range of all three categories of robots—6-axis, SCARA, and Cartesian—that are in-house designed and built," said Dalgliesh. "With this flexibility, TM Robotics can easily customize a solution to the customers need and budget. TM Robotics is uniquely able to nurture customer growth and fuel their desire to have the best industrial robotics solution."
"After thirty-five years of working in the industrial robotics market, Doug possesses a wealth of industry experience, enabling him to quickly identify ways to automate new markets and outline ideal solutions for customers," said Nigel Smith, CEO of TM Robotics. "I look forward to the new distributors and staff Doug will put in place to establish our stronghold in the United States."
About TM Robotics
TM Robotics, in partnership with Toshiba Machine, offers a comprehensive range of industrial robots ideally suited for high-precision assembly, machine loading/unloading and material-handling applications that can be dust proof, clean room, or IP65/67. The companys extensive product line starts with a Cartesian solution available in thousands of combinations from single actuators to four-axis solutions; six-axis solutions that can include precise vision-control; and a complete range of SCARAs from low cost to the industry-leading SCARA with 1200-mm reach that can carry up to 20 kgs. TM Robotics sells and services robots throughout Europe, the Middle East, India, Russia, and Africa, as well as North, Central, and South America, from headquarters in Hertfordshire, England and Elk Grove Village, IL, USA. For more information, visit www.tmrobotics.com or follow us on Twitter, LinkedIn and YouTube.
Featured Product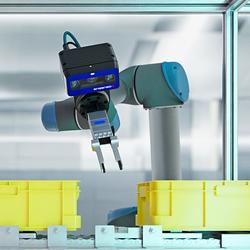 IDS NXT: a platform for a new generation of vision systems for industrial applications. It lays the groundwork to provide easy-to-use yet flexible complete systems that can be used to implement all steps of a vision solution. With IDS NXT ocean, a complete solution especially for AI-based image processing is now available. It allows to solve tasks where classic, rule-based image processing has reached its limits - without any programming effort.