We've recently invested in an additional 60,000 sq ft facility in order to build larger projects and offer increased capacity to our customers.
Midwest Engineering Systems Inc., an innovative provider of premier custom machines and integrated systems is proud to announce an expansion of manufacturing and engineering office space in Waukesha WI.

Due to increased customer demand and the need for more manufacturing space, Midwest Engineered Systems has expanded in size once again by investing in a 60,000 ftt2 facility. The new addition is located directly next door to the Corporate Headquarters in Waukesha WI.
"We have invested in additional space in order to fulfill larger project builds." Says Scott Woida, President of Midwest Engineered Systems. "This investment will allow MWES to not only carry out these larger projects, but also maintain enough free space for incoming projects in our sales pipeline."
The Expansion Includes:
• 50,000 ft2 of manufacturing floor space
• 10,000 ft2 office space including engineering offices and conference rooms.
Midwest Engineered Systems is currently operating out of 4 facilitys including the 100,000 ft2 Corporate Headquarters in Waukesha, WI, a 5,000 ft2 Engineering Office in Beloit, WI, a 55,000 ft2 Welding and Service Facility in Loveland, CO, and the newest 60,000 ft2 space in Waukesha, WI.
Midwest Engineering Systems Inc. is committed to providing simple solutions to complex automation problems. Our engineering staff has technical expertise that includes a diverse knowledge base, building thousands of custom automation systems over the last 25 years.
For more company information and news visit: http://www.mwes.com/blog
Midwest Engineering Systems Inc. has been providing high-quality custom machine design and automation solutions since 1991.
Featured Product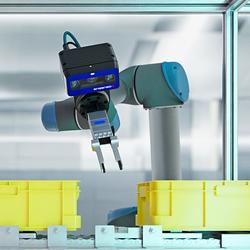 App Your Sensor®! What would smartphones be without apps? They would be mobile phones that can't do much more than make phone calls and sending SMS. Apps turn smartphones into intelligent assistants with any number of different tasks. Transferred into the world of image processing, this app-based approach transforms cameras and sensors into customised, smart vision sensors.