From China to Germany, channel partners convene to discuss the future of collaborative robots in manufacturing
BOSTON, May 23, 2016 /PRNewswire/ -- This week, Rethink Robotics and its network of more than 30 strategic global channel partners are coming together in Boston to discuss market trends in the rapidly growing collaborative robotics industry as part of the company's inaugural Global Channel Partner Summit.

Major partners from the United States, China, Germany, Japan, France, Mexico, Canada, Israel, the U.K. and more will share regional knowledge on collaborative robots, and how manufacturers are most effectively leveraging automation in their countries.
Over the past eight months, Rethink Robotics inked 10 strategic agreements in seven countries to deliver its smart, collaborative robots to the international manufacturing community, including partnerships with Shanghai Electric in China, Sumitomo Heavy Industries in Japan, Freise Automation, HAHN Robotics in Germany, Humarobotics in France, Interlatin in Mexico and Innovative-IDM in Texas.
"The demand for Baxter and Sawyer is growing in the U.S. and around the world, and, as a result, we've strategically partnered with industry-leading companies from across the globe to help meet the demand and deliver our smart, collaborative robots to manufacturers," said Jason Barton, chief revenue officer at Rethink Robotics. "Bringing all of our strategic partners together for the first time is an exciting opportunity to gain even more regional insight into the collaborative robotics market and align on channel strategies for the coming year."
The two-day global distributors meeting will include a preview of Rethink's coming innovations in the collaborative robot hardware and software market, roundtables on regional trends and discussions on how the collaborative robotics market will evolve. This will include conversation around government initiatives like Industrie 4.0 in Germany and Made in China 2025, both of which are causing spikes in demand for robots that can adapt to real world variability, change applications quickly and perform tasks like people do.
Video from the Global Channel Partner Summit will be made available in the coming weeks.
For more information, please visit www.rethinkrobotics.com.
About Rethink Robotics
Rethink Robotics is transforming the way manufacturing gets done, with smart, collaborative robots able to automate the 90 percent of tasks that until now, have been beyond the reach of traditional automation. Its Baxter and Sawyer robots, powered by the Intera software platform, adapt to real-world variability, can change applications quickly and perform tasks like people do. The result: manufacturers of all shapes, sizes and industries get the fast-to-deploy, easy-to-use and versatile automation solution they need to increase flexibility, lower cost and accelerate innovation.
Based in Boston, the Rethink product suite is available in Asia, Europe and North America. The company is funded by Bezos Expeditions, CRV, Highland Capital Partners, Sigma Partners, DFJ, Two Sigma Ventures, GE Ventures and Goldman Sachs. For more information about Rethink Robotics, please visit www.rethinkrobotics.com and follow us on Twitter @RethinkRobotics.
Featured Product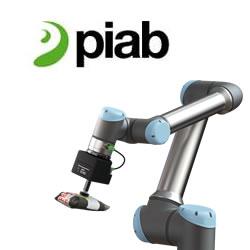 Piab's Kenos KCS gripper enables a collaborative robot to handle just about anything at any time. Combining Piab's proprietary air-driven COAX vacuum technology with an easily replaceable technical foam that molds itself around any surface or shape, the gripper can be used to safely grip, lift and handle any object. Standard interface (ISO) adapters enable the whole unit to be attached to any cobot type on the market with a body made in a lightweight 3D printed material. Approved by Universal Robots as a UR+ end effector.