TraceParts experiences a sharp increase in the number of design professionals registered to its online CAD platform in 2016
The TraceParts CAD community reaches 2.5 Million registered users

TraceParts experiences a sharp increase in the number of design professionals registered to its online CAD platform in 2016
Saint-Romain, France, May 25, 2016 - TraceParts, a global vendor of 3D marketing solutions, has announced a sharp increase of 25% in less than 2 years in the amount of user registrations to its online CAD delivery platform.
The TraceParts platform hosts hundreds of million of supplier-certified CAD data in the cloud and offers free and simple download services for 2D/3D CAD files in the most popular native formats of products ranging from standard fasteners to electronic or mechanical components, such as connectors or linear motion modules.
With the number of CAD downloads consistently increasing by 20% year on year to reach 60 Million downloads last year, the TraceParts CAD community now counts just over 2.5 Million registered users on its online platform. This substantial increase confirms the growing appetite among engineers and design professionals for downloading 2D/3D CAD files from a trusted source.
"Since the launch of our web platform in 2001, we have really proven that our business model to offer 'Product Content Everywhere really worked for the global design community. From our online presence, our mobile app and through the TraceParts catalog distribution network, design engineers have multiple entries to a wealth of technical data on industrial parts and the possibility of freely downloading the CAD models chosen for their design projects. With over 2.5 Million currently registered users on our platform, parts vendors publishing their 3D catalog with TraceParts are also experiencing a substantial increase in the number of new sales leads generated by their product data" added Bertrand Cressent, Product Manager at TraceParts.
Updated daily with new CAD content, the TraceParts platform has launched recently a serie of new features to enhance designers experience and help them find quickly the right parts for their design and prevent them from re-modelling existing components.
TraceParts success have also benefited directly to part manufacturers and B2B distributors publishing their technical data and 3D files on the TraceParts platform who substantially increase their exposure to their market and generate lists of new highly-qualified prospects.
Industrial parts vendors looking for more information about publishing their 3D product catalog can contact TraceParts by email at info@traceparts.com or visit the www.traceparts.com website.
About TraceParts
TraceParts is one of the world's leading providers of 3D digital content for Engineering. As part of the Trace Group founded in 1989, the company has been providing powerful web-based solutions, such as CAD part libraries, electronic catalogs and product configurators. TraceParts also provides digital marketing services to help part manufacturers, software and computer hardware vendors promote their products and services and generate high-quality B2B sales leads.
The TracePartsOnline.net portal is available free-of-charge to millions of CAD users worldwide. It provides access to hundreds of supplier catalogs and more than 100 million CAD models and product datasheets that are suited to Design, Purchasing, Manufacturing and Maintenance processes.
Featured Product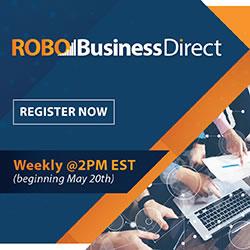 RoboBusiness Direct is built to foster robotics innovation in all its forms, expand robotics business opportunities, and build a community of like-minded problem solvers with the goal of driving the growth of robotics businesses. More than a webinar or virtual event, RoboBusiness Direct is an ongoing, integrated series of presentations and media coverage delivered by brightest minds from the leading robotics and automation companies from around the world - Nuro, FedEx, Lockheed Martin, Samsung, Siemens and more.