Caionix will offer Toshiba Machines full line of Cartesian, 6-axis, and SCARA robot systems for companies looking to improve industrial production efficiency
CAIRO & HERTFORDSHIRE, United Kingdom--(BUSINESS WIRE)--Today TM Robotics and Toshiba Machine announced they have partnered with Caionix, a distributor of industrial robots in Egypt. With this partnership, Caionix is now responsible for providing the areas industrial market with the pre-sale, sale and after sale services for Toshiba Machines Cartesian, 6-axis and SCARA robots. The companies will be displaying the THL600 SCARA robot next week at The Afro Packaging and Food Manufacturing Exhibition in Exhibition Hall 2 Booth A3, taking place from May 26-29 in Cairo, Egypt.

Caionix provides support and solutions for many applications in a variety of industries, including food, pharmaceutical, packaging, plastics and automotive component.
The THL SCARA models satisfy the growing demand for affordable, flexible automation in applications outside of the traditional robot industries. In addition, because the lightweight system generates substantially less inertia, a simplified gearbox has been used. The net result is that these robots are the most energy efficient in their class.
"Weve been working with Caionix since the beginning of this year and so far have experienced great interest in the Egyptian market," said Nigel Smith, CEO of TM Robotics. "Its clear there was a great need for flexible, cost-effective robots like Toshiba Machines. Were looking forward to expanding our footprint in Africa as we work with Caionix to increase our reach in the area."
"We chose to work with TM Robotics because we knew Toshiba Machine Industrial Robots provided flexibility, high performance and a simple design that suits a wide variety of applications," said Ahmed Abdeldayem, Chief Marketing and Sales Officer of Caionix. "With our industrial focus, having access to every kind of robotic offering provides our customers the best solutions possible to solve their every manufacturing need."
The Afro Packaging and Food Manufacturing Show will be held at the Cairo International Conference Center in Cairo, Egypt. Exhibition hours run from Thursday, 26 May, until Sunday, 29 May, from 11:00 a.m. - 8:00 p.m. local time. For more information, visit www.afropackaging.com.
About TM Robotics
TM Robotics, in partnership with Toshiba Machine, offers a comprehensive range of Toshiba Machine Industrial Robots ideally suited for high-precision assembly, machine loading/unloading and material-handling applications that can be dust proof, clean room, or IP65/67. The companys extensive product line starts with a Cartesian solution available in thousands of combinations from single actuators to four-axis solutions; six-axis solutions that can include precise vision-control; and a complete range of SCARAs from low cost to the industry-leading SCARA with 1200-mm reach that can carry up to 20 kgs. TM Robotics sells and services robots throughout Europe, the Middle East, India, Russia, Oceania, Australia, and Africa, as well as North, Central, and South America, from headquarters in Hertfordshire, England, and Elk Grove Village, IL, USA. For more information, visit www.tmrobotics.com or follow us on Twitter, LinkedIn and YouTube.
About Caionix
Caionix is an Egyptian integrator specialized in industrial robots and automation systems. Our aim is to facilitate the integration of industrial robots into the production lines in Middle East and North Africa. We are focusing on food manufacturing, pharmaceutical, packaging and plastics and automotive industries. We are also focusing on raising the awareness of industrial robots for educational purposes. To realize this goal, we teamed up with TM Robotics for Toshiba Machine Industrial Robots, the leading Japanese industrial robot manufacturer. For more information, visit www.caionix.com or call +201008230007.
Featured Product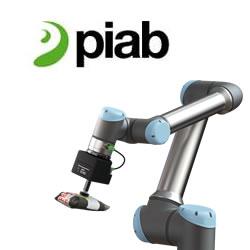 Piab's Kenos KCS gripper enables a collaborative robot to handle just about anything at any time. Combining Piab's proprietary air-driven COAX vacuum technology with an easily replaceable technical foam that molds itself around any surface or shape, the gripper can be used to safely grip, lift and handle any object. Standard interface (ISO) adapters enable the whole unit to be attached to any cobot type on the market with a body made in a lightweight 3D printed material. Approved by Universal Robots as a UR+ end effector.