The expo hall will now be twice as large as the size of the first InterDrone, held last year.
BZ Media LLC announced today that the trade show floor at InterDrone™ The International Drone Conference & Exposition being held September 7-9 at the Paris Hotel in Las Vegas would be expanding to accommodate very strong demand. The expo hall will now be twice as large as the size of the first InterDrone, held last year.

InterDrone is the largest event dedicated to commercial drones in North America and expects to host 4,000+ commercial drone buyers and flyers who will learn at more than 120 sessions. "Attendance is running well ahead of last year at this time and we have more than 220 media and association partners helping to market and build InterDrone 2016," said Ted Bahr, InterDrone Chairman.
The show floor will now include the Drone Theatre where exhibitors can book time to give 20 minute talks on their products and the problems they solve. "Our technical program, while already the largest and most comprehensive of all the commercial drone shows, couldnt accommodate all of the great content being submitted to InterDrone and the Drone Theatre will give us an additional 48 slots to help educate drone builders, flyers and buyers," said Katie Flash, Director of Conference Programs at BZ Media.
Blue chip UAV companies sponsoring and exhibiting at InterDrone include Diamond Sponsors Yuneec and Multicopter Warehouse, Platinum sponsors 3DR, Autel, DJI, Hubsan, Parrot and PowerVision and key enterprise players including Precision Hawk, SenseFly, Flir, Skyward, Aeronavics, Dentons Insitu, Leptron, LIDAR USA, Novatel and Zeiss.
Building on the successful "Hanger" ballroom for start-ups last year, InterDrone has also announced a start-up zone near the Drone Theatre where companies of less than 2 years can exhibit at a discounted rate starting at $1,695.
BZ Media has also partnered with the CTIA-The Wireless Association® to allow attendees going to CTIA Super Mobility 2016 to also attend InterDrone. CTIA Super Mobility 2016 badge holders gain free "expo badge" attendance for InterDrone, while InterDrone badge holders gain free "expo badge" access to CTIA Super Mobility 2016, with express shuttle bus service between the event sites running during show hours.
Registration for InterDrone—strictly for commercial drone builders, buyers and flyers—is now open at www.InterDrone.com. For information on exhibiting or event sponsorships, please contact Ted Bahr at ted@bzmedia.com or +1 631-421-4158 FREE x101.
Source: http://www.interdrone.com/
Featured Product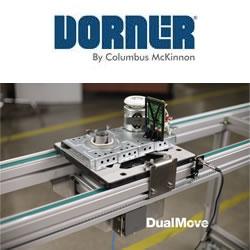 Dorner's 2200 Series Precision Move Pallet Systems are ideal for assembly automation. With features such as an innovative timing belt conveyor design and industry best pallet transfers, they get your product to the exact location, at the exact time and in the exact position it needs to be. They are now available with new options such as heavy load corner modules with 150 lb. capacity and 180 degree tight transfer corners for compact loops.