Automated drone flight, data capture and data analysis now integrated within iOS and Android apps
DroneDeploy, the leading cloud software platform for commercial drones, is making powerful aerial data accessible and productive for everyone. Today DroneDeploy announced the new release of its fully integrated, free iOS and Android app, to deliver a more seamless and engaging drone mapping experience. Now anyone with the latest drones from DJI, the worlds leading drone maker, can not only autonomously fly and capture images, but can also analyze their drone imagery directly from within the DroneDeploy app.

"Automating drone flight and image capture is critical, but only half the story," said Mike Winn, CEO and co-founder, DroneDeploy. "The real value is in deriving insights from the data. By creating an integrated app which includes both drone flight and data analysis were helping our users better extract insights while in the field, giving them a competitive advantage."
The new integrated drone mapping experience enables faster and smoother transitions between drone flight and data analysis. The DroneDeploy design team focused on key mobile elements, such as intuitive interactive touch, contrasting colors for better outside viewability, and bringing annotations and other key functionality to the forefront. Beta testers found the app, which is mobile optimized for analyzing drone maps and 3D models, extremely engaging. 'Time spent with the Map Viewer increased by two and half times as compared to the previous desktop version.
The new DroneDeploy iOS and Android app is a big step forward for the commercial drone industry. It includes enhanced flight planning features, such as the ability to rotate the flight direction and easily select the starting waypoint when continuing previous missions. It also includes an entirely new central dashboard designed to help users quickly sort through their aerial maps.
DroneDeploy users, from hobbyists to leading global enterprises, have produced and analyzed millions of acres of maps in more than 100 countries. DroneDeploy is transforming industries. Farmers are identifying irrigation and pest issues, and creating better prescriptions. Construction sites and mining operations are increasing their efficiency, reducing costs and increasing worker safety. Insurance companies are inspecting multi-million dollar claims.
The DroneDeploy iOS and Android app, which include live stream First Person View (FPV) support DJIs best drones for automated flight, including the Phantom 3 Pro, Phantom 3 Advanced, Inspire 1 and Inspire 1 Pro, and Matrice 100. Operators of non-DJI drones can use the DroneDeploy Map Engine to process geo-tagged images from any drone manufacturer and leverage the redesigned app to view their drone maps and 3D models in the field.
On the heels of DroneDeploys recent release of shapefile exports and its new agriculture offering, and with todays release of the fully integrated iOS and Android app, DroneDeploy continues to show its leadership and innovation within the commercial drone industry.
To download the new integrated iOS app for free from the Apple App Store visit: https://itunes.apple.com/us/app/dronedeploy-fast-aerial-data/id971358101
To download the new integrated Android app for free from the Google Play Store visit: https://play.google.com/store/apps/details?id=com.dronedeploy.beta&hl=en
To learn more about todays announcement visit the DroneDeploy blog.
About DroneDeploy
DroneDeploy is the leading cloud software platform for commercial drones, and is making the power of aerial data accessible and productive for everyone. Trusted by leading brands globally, DroneDeploy is transforming the way businesses leverage data across industries, including agriculture, construction, mining, inspection and real estate. Simple by design and easy to use, DroneDeploy enables professional-grade imagery and analysis, 3D modeling and more from any drone on any device. DroneDeploy users have mapped and analyzed over 2 million acres in over 100 countries. DroneDeploy is located in the heart of San Francisco. To learn more visit http://www.dronedeploy.com and join the conversation on Twitter @DroneDeploy.
Featured Product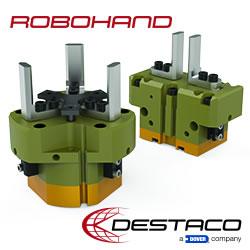 Automatically change end effector tooling quickly and easily with Destaco's Automatic Tool Changers. Designed with exceptional repeatability, high rigidity and load capacity, they are perfect for multiple tooling applications utilizing one robot. We offer different models and sizes to handle light-duty to heavy-duty applications. Our RQC/RTP Series provides a high level of flexibility with a configurable, modular design that accommodates up to four optional modular interfaces.