Valmie debuted AeroLift eXpress last month at the Offshore Technology Conference (OTC) in Houston.
HOUSTON--(BUSINESS WIRE)--Valmie Resources Inc.'s (VMRI) joint venture partner -- AeroLift eXpress -- presented its groundbreaking drone-based delivery platform to two U.S. offshore operations companies. The responses from the companies were positive and AeroLift has begun making preparations for a live demonstration.

Valmie debuted AeroLift eXpress last month at the Offshore Technology Conference (OTC) in Houston.
"We are very optimistic following our presentation to twenty top officials of a marine operations services and engineering company," said James Stafford, AeroLift eXpress CEO and Founder. "AeroLift has now begun the process of obtaining Federal Aviation Administration permission to hold a live demonstration at a safe local site for these and several other companies."
The agendas of the two presentations included descriptions of AeroLifts military grade drone technology and how it offers significant advantages over marine, helicopter, and existing unmanned systems.
"Reducing cost, risk, and delays are top of mind for these executives and for every project manager in the energy sector," said Gerald B. Hammack, President and CEO of Valmie Resources. "We look forward to demonstrating how AeroLift can safely access some of the most remote locations on the globe."
AeroLift, operated by former US military pilots, delivers payloads up to 14 pounds within an operating radius of 250 miles. Stafford says the company has plans to increase the payload size to as much as 80 pounds in subsequent development phases.
About Valmie Resources (OTCBB: VMRI)
Valmie Resources is a U.S. company actively pursuing opportunities for the commercialization of leading edge products and services in the rapidly expanding technology industry. Valmie brings operating talent, tools, and leadership to emerging companies in these sectors, promoting industry awareness and developing economically sustainable partnerships while increasing shareholder value.
Valmie has received a Section 333 Exemption from the Federal Aviation Administration (FAA) to perform commercial drone activities within the U.S. National Airspace System. With professional grade equipment and pilots, Valmie intends to use the exemption to commercially operate unmanned aerial systems for agricultural applications, search and rescue operations, power line and pipeline inspections, infrastructure surveying, and imaging to increase the effectiveness of data collection, storage, and analysis.
For details visit http://valmie.com.
About AeroLift eXpress
AeroLift eXpress is a privately held tech start-up that offers increased productivity, reduced operating costs and lower risks by providing elite unmanned aerial transport to the worlds most inaccessible locations.
AeroLift eXpress is led by a team of military trained pilots, mission commanders and specialists with more than 60 years of combined aviation experience during successful military campaigns. AeroLifts aircraft are military grade construction, adapted for commercial applications. Together with state of the art ground control stations and flight control software, AeroLifts platform has been demonstrated during more than 100,000 flight hours in wartime conditions.
For details visit http://www.aeroliftexpress.com
Featured Product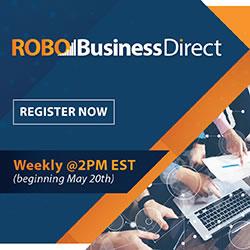 RoboBusiness Direct is built to foster robotics innovation in all its forms, expand robotics business opportunities, and build a community of like-minded problem solvers with the goal of driving the growth of robotics businesses. More than a webinar or virtual event, RoboBusiness Direct is an ongoing, integrated series of presentations and media coverage delivered by brightest minds from the leading robotics and automation companies from around the world - Nuro, FedEx, Lockheed Martin, Samsung, Siemens and more.