PCD insert makes clean holes with minimal delamination in CFRP throughout long tool life
Dover, OH - Allied Machine & Engineering, a leading manufacturer of holemaking and finishing tooling systems, highlights the availability of its Polycrystalline Diamond (PCD) T-A Drill inserts, designed for drilling in carbon-fiber-reinforced polymer (CFRP), used in lightweight aircraft wings and fuselages, and other highly abrasive substances. The PCD inserts deliver drastically improved tool life and value over competing products.

The T-A Drill series features a replaceable tip design, allowing users to replace only the tip of the tool when it has worn out, unlike competing products that require the entire tool to be removed and replaced. This saves costs for users in the long run, reducing the cost of replacement tools.
Allied Machines PCD T-A Drill inserts feature the standard T-A Drill insert with PCD wafers installed at the inserts cutting edge. Developed to meet the needs of a major American aircraft manufacturer when the company began using CFRP for wings and fuselages nearly a decade ago, the PCD T-A inserts are industry-proven to lead the market in reliability and cutting efficiency.
The highly productive, cost-effective PCD inserts can withstand strong and highly abrasive materials like CFRP-Titanium stacks, aluminum, titanium, copper, magnesium, fiberglass, and chipboard, which are frequently used in the aerospace and automotive industries. High speed steel and carbide drill inserts are unable to approach the efficacy, productivity, and overall value of Allieds PCD inserts when drilling in such difficult materials.
For more information, please visit: www.alliedmachine.com.
About Allied Machine & Engineering:
Allied Machine & Engineering is a leading manufacturer of holemaking and finishing tooling systems. Allied devotes its advanced engineering and manufacturing capabilities to creating the widest selection of value-added tooling available to metal-cutting industries around the world. Our tooling solutions deliver the lowest cost-per-hole in a wide range of drilling, reaming, threading, and boring applications.
Located in Dover, Ohio, Allieds precision holemaking technologies provide end users worldwide with the highest level of drill performance. Precision engineering and expert application support make Allied the first and best choice for solving complex metal-cutting challenges.
Featured Product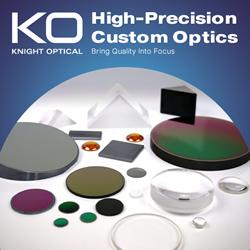 Knight Optical (KO) has provided discerning engineers, designers, and the like from the automation sector with dependable, premium-quality optics for over three decades. Throughout this time, the leading supplier has helped refine the precision of some of the world's most innovative technologies and partnered with a wide range of companies throughout the industry. In this article, Automation talks to KO about its involvement in the sector and, ultimately, finds out more about how the optical brand can help your supply chain process.