World Patent Marketing Reviews A New Tech Invention. Will 4G Drone Link Be the Next World Patent Marketing Low Cost Success Story?
World Patent Marketing, a vertically integrated manufacturer and engineer of patented products, announces the 4G Drone Link, a tech invention that provides a new and improved way of keeping track of Aerial Drone units.

"Unmanned Aerial Vehicle (UAV) Manufacturing market is worth $3 billion," says Scott Cooper, CEO and Creative Director of World Patent Marketing. "By 2020, the relaxation of regulations on the use of drones is expected to provide new growth opportunities for the industry, resulting in increased revenue."
"Aerial drones are now being used to record videos from a birds eye view," says Jerry Shapiro, Director of Manufacturing and World Patent Marketing Inventions. "However, it is required by the Federal Aviation Administration to follow strict rules to prevent any untoward accidents and incidents while using this high tech gadget. The 4G Drone Link is a tech invention which allows aerial drone users to keep track of all their units while ensuring that they abide by the FAAs regulations."
The 4G Drone Link is a tech invention that provides a method and system in keeping track of aerial drone units. With the demand for amazing videos, drones have now become the gadget of choice. This invention allows people to use drones without violating any rights or FAA regulations. In addition to this, the 4G Drone Link is fitted with a SIM card which allows it to easily access 4G-connectivity via a desired signal carrier. This allows the drone unit of a user to send GPS data for easy and convenient tracking.
"As an aircraft mechanic and a drone owner, I wanted to come up with a simple way to track drones," says inventor Timothy A. "I know how unnerving it would be to look out the window of a 737 on take off and see a drone tracking off the left wing taking pictures. After seeing numerous close calls with drones and aircraft in the news I decided to come up with an affordable solution for tracking fleet and hobby drones. The 4G Drone Link provides an innovative solution to the real world problem of tracking drones in real time, and will also provide drone ownership information. The 4G drone link can be used for the larger commercial drones to the smallest hobby drones that are sold to the consumer. Not only will the safety features keep the owner in FAA compliance but it will provide a way for consumers to locate that expensive drone that went missing."
Kara Ryan, gadgets blogger from San Francisco, California, has this to say about the 4G Drone Link: "For a lot of drone users, one of the things that concerns them is losing connection with their devices, thus causing losses or worse, accidents. The 4G Drone Link allows people to easily connect and track their aerial drones with ease."
The 4G Drone Link is a tech invention that will highly improve how people use their aerial drones. With its highly functional features, drones are now utilized in a way that it would not cause harm to others and violate the strict rules and regulations of the FAA.
ABOUT WORLD PATENT MARKETING
World Patent Marketing is an innovation incubator and manufacturer of patented products for inventors and entrepreneurs. The company is broken into eight operating divisions: Research, Patents, Prototyping, Manufacturing, Retail, Web & Apps, Social Media and Capital Ventures.
As a leader in patent invention services, World Patent Marketing is by your side every step of the way, utilizing our capital and experience to protect, prepare, and manufacture your new product idea and get it out to the market. Get a patent with World Patent Marketing and the company will send representatives to trade shows every month in order to further advocate for its clients. It is just part of the world patent marketing cost of doing business.
World Patent Marketing Reviews enjoy an A+ rating with the Better Business Bureau and five star ratings from consumer review sites including: Consumer Affairs, Google, Trustpilot, Customer Lobby, Reseller Ratings, Yelp and My3Cents.
World Patent Marketing is also a proud member of the National Association of Manufacturers, Duns and Bradstreet, the US Chamber of Commerce, the South Florida Chamber of Commerce, the Greater Miami Chamber of Commerce, Association for Manufacturing Excellence, and the New York Inventor Exchange.
Visit the worldpatentmarketing.com website and find out how to patent an invention. Contact us at (888) 926-8174.
Featured Product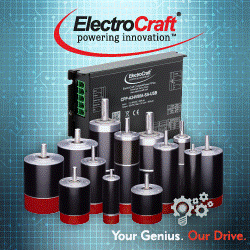 ElectroCraft exhibits its motion control product offer at Robotic related events at trade show and demonstrations across the world. We attend these events and conferences not only to show our motor and drive product offering, but to discuss and learn more about challenges involved with developing commercial robotics across markets.