For the sixth edition of the event, Innorobo 2016 successfully premiered in Paris, once again helping to accelerating the development of robotics innovations to benefit humankind. Beyond the figures and the event, Innorobo brings to life the community of players driving the robotics transformation and opens it up to major groups from France and around the world.
Paris, France, 9 June 2016 - The sixth edition of Innorobo was held at Docks de Paris from 24 to 26 May 2016. Some 200 exhibitors from 21 countries interacted with more than 10,000 visitors of 57 nationalities. As well, the Inside 3D Printing exhibition and conferences made their first appearance in France.

More than 400 leading personalities in the worldwide robotics sector - speakers, international experts, managers of firms that design or use robotics technologies, clusters, institutions, researchers, investors and many others -came together to connect with a vast business ecosystem and build trade relations and partnerships.
Innorobos international renown has gained momentum thanks to the events clear focus on robotics innovations and emerging trends that sets it apart from events dedicated to a specific application (e.g. industrial production, additive manufacturing, logistics, etc.). Innorobo helps innovations get to their market faster and fosters growth through cross-sector innovation and development of new markets. The event shines the spotlight on a booming, enthusiastic ecosystem that is a breath of fresh air amidst todays pessimistic economic climate.
Towards "Human Robotics" with major partners
The robotics transformation is a global phenomenon and Innoechos international agreements with robotics federations in Japan (JARA), South Korea (KAR), Singapore (SIAA), Russia (Skolkovo), China (CRIA) and France (GDR) enable the Innorobo event to explore the social impact of this "general purpose technology" and envision, along with key technological and innovation players in the field, a human - or even humanistic - approach to the way our society will change in the next 10 to 20 years through these disruptive technologies. Yet, it is also a time for highly influential corporations to take concrete action. Innorobo 2016 hails the participation of major groups that wanted to be partners to the summit, including BNP Paribas Cardif, Huawei, NVidia and Aéroports de Paris. They are playing an active role in todays robotics transformation and contributing to our fast-changing world.
Leading groups from around the world on hand at the robotics forum
Beyond the way they will shake up business models, economics and commercial opportunities, robotics technologies also provide solutions for major cross-border social challenges around the globe. Innorobo thus strives to bring experts and visionaries to host and speak at its conferences, invites its audience to take part in workshops on they way these technological advances will potentially change our world and creates opportunities for "water cooler" conversations, which are ideal for fostering collaboration and discussions with a longer-term vision. "Moving to Paris helped bring on many large groups from France (Total, Bouygues, Areva, Airbus, Orange, Dassault Systèmes, Air Liquide, EDF, PSA, Thales, Safran and others) and around the world (Microsoft, Accenture, Xerox, General Electric, Deutsche Telekom and others) at the strategy and innovation division level," said Catherine Simon, CEO of Innoecho and founder of the Innorobo exhibition. "They got a first-hand look at the reality of robotics in the field, and I hope this will help the innovations presented by robotics entrepreneurs and start-ups to reach their markets faster, to enable these new technologies to serve Humankind."
Regional governments and robotics clusters help French robotics shine worldwide
Frances most active clusters and regional governments helped French robotics shine around the globe. The Hauts-de-France pavilion, with special guests Mr. Xavier Bertrand, President of the Region, and Ms. Frédérique Macarez, Mayor of Saint-Quentin, presented the dynamic, comprehensive regional ecosystem built over the past several years, "la Robonumérique" ("Robotics and Digital Technology"), which brings together researchers, educators, robotics manufacturers, integrators and customers. A framework agreement was signed with Orange during the French Mayors Conference the week following Innorobo. The Auvergne-Rhône-Alpes region, with its Coboteam cluster, signed a cooperation agreement with one of South Koreas most dynamic regions for robotics, Daegu, which brought a delegation of over 30 major Korean companies to Innorobo 2016 in order to build international collaborative ventures. The Aquitaine-Limousin-Poitou-Charentes, Languedoc-Roussillon-Midi-Pyrénées and Pays de la Loire regions greatly contributed to Frances impact by demonstrating robots in the countrys fields of excellence, including drones, autonomous vehicles and medical robotics.
A French company wins the Innorobo 2016 Call for Startups
Axilum Robotics is part of the ICube Automation, Vision and Robotics team (Engineering, Informatics and Imaging Science Laboratory, CNRS mixed research unit / University of Strasbourg/ ENGEES/ INSA). Axilum Robotics first product is a robot that assists healthcare professionals and researchers in Transcranial Magnetic Stimulation. http://www.axilumrobotics.com/fr/
Philippe Bidaud awarded the Čapek Prize 2016
Philippe Bidaud earned an MS in Mechanical Engineering and a DEA degree in Solid Mechanics from the University of Poitiers. After completing his PhD in Robotics, he was recruited as a researcher at the CNRS. He began his career as a researcher at the Robotics and Mechanical Engineering Laboratory of Pierre & Marie Curie University in Paris. He subsequently directed several research groups. In the meantime, worked for several long periods at foreign universities including Stanford, MIT and Rutgers University. In 1998, he was hired as a professor at Pierre & Marie Curie University. He became Deputy Director of the Paris Robotics Laboratory in 1999, and then director in 2002 before creating the Institute of Intelligent Systems and Robotics, which he headed until 2013. From 1998 to 2012, Philippe was entrusted with several teaching responsibilities, and he was also active in the field of technology transfer until 2009. Today, Philippe is the Scientific Director for Information Science at Onera. He also manages Frances national robotics research network, GdR Robotique. Philippe has contributed to collaborative research in many national and European projects. His entire body of work has been the subject of more than 200 publications and a dozen patents. He actively contributes his excellence to developing and promoting French and international robotics, and provides his unwavering support to the Innoecho team throughout the year.
About Innorobo
Innorobo, Europes leading event dedicated entirely to the robotics sector and its innovations, has created a unique robotics ecosystem to speed up the time-to-market of innovations and technologies that provide solutions for the major challenges our world is facing. Innorobo brings together robotics companies from around the world alongside research laboratories, start-ups, inventors, public and private funding providers, institutional players, strategy and innovation decision makers from major international groups and SMEs and the media.Innorobo - A Human Robotics Event. www.innorobo.com
About Innoecho
An Impact Consulting firm focusing on business development through innovation and expertise in worldwide robotics markets, Innoecho brings together a vast business ecosystem of disruptive technologies for sustainable humankind. Throughout the year, Innoecho drives a community of over 3,500 robotics companies worldwide with nearly 10,000 leaders and decision makers who work together through open innovation and see robotics technologies, products and services not only as opportunities for technology-fueled growth and competitive advantages, but also as a means for human progress. Innoecho has created a worldwide collaborative platform dedicated to disruptive technologies, TheDisruptory ( www.thedisruptory.com). Innoecho - A Human Approach to Disruptive Technologies. www.innoecho.com
Featured Product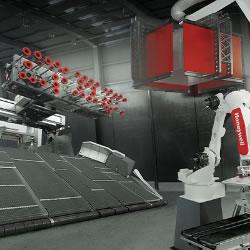 Honeywell Intelligrated is recognized by the Robotic Industries Association (RIA) as a Certified Robot Integrator, with more than a quarter-century of experience providing single-source robotic solutions for high-performance distribution and manufacturing operations. From system concepting, simulation, fabrication and integration to installation and commissioning, training and ongoing support, each solution is approached with a comprehensive lifecycle view to maximize the value of your system.