Compact and economical servo adaptor makes matching g500 gearbox and servo motors easy
UXBRIDGE, MA - June 20, 2016 - A global leader and manufacturer of electrical and mechanical drives, motion control and automation technologies, Lenze Americas recently released a servo adaptor for its g500 gearbox series. The compact design of the new Lenze servo adaptor provides a more compact and cost-effective solution than using a standard input flange connection from a gearbox to a servo motor.

"Lenze brings field-proven engineering to solve tough industry challenges," states Alby King, electromechanical product manager, Lenze. "The simple yet robust g500 gearbox, in tandem with a servo adaptor, provides the design flexibility customers need in an economical solution—proving once again, less can mean more."
Designed for the North American market, the Lenze g500 series servo adaptor is offered in a range of standard input sizes for compatibility with most servo motors on the market in the U.S. and Canada. Available as an inline, right angle, or shaft mounted design, the g500 series servo adaptor optimizes available space and reduces the requirement for coupling components.
Developed to transform motor speed into torque as intelligently and accurately as possible, the finely tiered range of Lenze gearboxes are designed to minimize motor energy losses. The Lenze g500 gearbox series features energy efficiency of at least 94 percent across the entire transmission range. Lower energy use translates into cost savings and less heat generated, which can increase the overall service life of a motor.
Adds King, "The new servo adaptor allows users to easily mix and match their choice of servo motor with Lenze quality g500 motor gearing to gain efficiency and added performance advantages in dynamic and precision servo motor applications."
###
About Lenze Americas
Lenze is a global manufacturer of electrical and mechanical drives, motion control and automation technology. As a global specialist in Motion Centric Automation, we offer our customers products, drive solutions, complete automation systems, engineering services and tools from a single source. We are a leading provider of automation solutions to the packaging industry, and our other focus industries include automotive, material handling and logistics, robotics, and commercial pumps/fans. With a global network of engineers, sales representatives, and manufacturing facilities, Lenze is well-positioned to meet the motion control needs of customers worldwide. Lenze Americas, the American subsidiary of Lenze SE of Germany, is headquartered in Uxbridge, Massachusetts, with an assembly and logistics center in Glendale Heights, Illinois. Corporate global headquarters are in Hamelin, Germany. Visit www.Lenze.com for more information.
Featured Product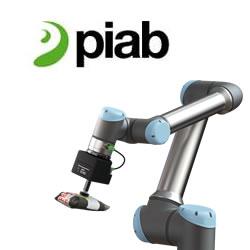 Piab's Kenos KCS gripper enables a collaborative robot to handle just about anything at any time. Combining Piab's proprietary air-driven COAX vacuum technology with an easily replaceable technical foam that molds itself around any surface or shape, the gripper can be used to safely grip, lift and handle any object. Standard interface (ISO) adapters enable the whole unit to be attached to any cobot type on the market with a body made in a lightweight 3D printed material. Approved by Universal Robots as a UR+ end effector.