Comau introduces Rebel-S, its own 4-axis SCARA robot, in 5 different models with a payload of 6kg and 3 different reaches.
Munich, 21 June 2016 - Comau introduces Rebel-S, its own 4-axis SCARA robot,

in 5 different models with a payload of 6kg and 3 different reaches. All models are
controlled by the R1C 19" rack-mounted controller, which can be integrated into a
single cabinet to control an entire line. The robots are also available in the
openROBOTICS version, where the robot is directly integrated into the existing
machine/line automation controlled by B&R technologies.
The name of these new robots reflects the differences embodied by the SCARA
compared with the other robots in Comau's portfolio. They can be considered
"rebels" in the sense that they are not being articulated, they offer a variety of
mounting positions, and they utilize spacers - a simple, yet very innovative
solution able to extend the robot's reach.
Rebel-S is available with reaches of 450, 600 and 750mm. All three versions can
be floor or wall mounted, while the versions with 600 and 750mm reach can also
be configured for ceiling mounting. This flexibility in mounting position is facilitated
by the use of dual cabling options (either vertical or horizontal).
The difference in reach is provided by spacers, modules which enable the robot to
extend its radius of action. With an extension kit composed of spacers and
cables, the 5 models are effectively interchangeable.
This modularity opens the opportunity to a last second robot configuration and
this means considerable savings when the customer purchases the members of
SCARA's family.
Alongside its robots, Comau will offer a range of add-ons, including conveyor
tracking and a plug & play vision system, as well as a series of service packages
as part of its after sales strategy.
About Comau:
Comau is the worldwide leader in manufacturing flexible, automatic systems and
integrating products, processes and services that increase efficiency while lowering
overall costs. Headquartered in Turin, Italy, with an international network that spans 17
countries that employ more than 12,600 employees, Comau uses the latest
technology and processes to deliver advanced turnkey systems that consistently exceed
the expectations of its customers. Comau specializes in body joining & assembly,
powertrain machining & assembly, robotics and maintenance, as well as advanced
production systems and environmental services for a wide range of industrial sectors.
The continuous development of its products and services enables Comau to lead the
automation industry in meeting the unique requirements of each customer, and through
all phases of the project - from design, implementation and installation, to production
start-up and maintenance services.
www.robotics.comau.com
www.comau.com
Featured Product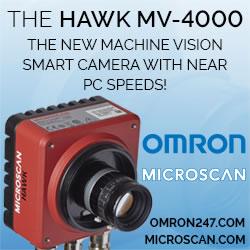 Space, or the lack of it, can be a challenge when placing barcodes or Data Matrix symbols on components. However, readable barcodes are critical to component traceability, time/date stamping, work in progress (WIP) tracking, and recall management. MicroHAWK UHD smart cameras can decode very small and difficult-to-read barcodes, including Data Matrix two-dimensional (2D) symbols and direct part marks (DPM). Users can rely on the MicroHAWK UHD to read symbols with an x-dimension almost invisible to the naked eye!