Comau introduces two new Racer robots and the SCARA robot family along with a preview of their high payload collaborative robots
Munich, 21 June 2016 - From June 21-24, Comau, a member of FCA Group, will have a prominent exhibit at Automatica 2016, one of the major international trade fairs for robotics and mechatronics, with a display area - Hall B5, Booth 329 - showcasing a large number of new products and robotics solutions.

"Think out of the fence" is Comaus motto at the fair, expressing the companys ability to think outside the conventions of the robotics industry and break the barriers which have so far come between man and machine in industrial plants. The motto also represents Comau's concrete way to extend its product range, which has been characterized by articulated robots.
Comau introduces two new Racer models: Racer5-0.63 and Racer5-0.80. Both robots are built on the Racer3 technological platform, offering different solutions which share the same components and parts, in a strategy aimed at expanding the range. In detail, the two new robots expand the capacity of Racer3 in terms of payload and reach. Racer5-0.63 features a reach of 630mm and payload of 5kg. Racer5-0.80 is also rated for a payload of 5kg, but has an extended reach of 809mm.
The ambition to "think out of the fence" is also embodied by 5 new models of SCARA robots. The Rebel-S family - a name which evokes the spirit required to break barriers - represents Comaus entrance into new segments of the market, and the aim to offer to customers an extended range of robots for handling and pick & place applications. Rebel-S can be considered "rebels" because they enhance the Comau portfolio of articulated robots; they offer all 3 mounting positions and provide 3 different reaches (450, 600, 750mm) thanks to an extension kit composed of cables and spacers (modules which enable the robot to extend its radius of action).
From "rebels" to collaborators. At Automatica, Comau introduces the AURA - Advanced Use Robotic Arm - upcoming product, an innovative solution for the collaborative robotics industry. For the first time, a real cooperation between high payload robots and man is possible. AURA will be showcased by two automotive applications - with robots handling payloads of both 60 and 110kg, the highest payloads on the market - applied on a Maserati Ghibli and in a second demo through which a completely collaborative system offers Italy's renowned coffee to the visitors of the fair, integrating Amico (the Comau humanoid concept), Racer5 in AURA configuration and, moreover, a collaborative rotary table and gripper.
AURA robots are powered by a special covering, equipped with sensitive areas which can simultaneously perceive the proximity and the contact with a person, or any other automation component. Additionally, the system features: perception of tactile pulses, the ability to modify its trajectory accordingly to a contact, manual guidance, an integrated vision system which enables it to predict the movements of a person in the area of action, and the use of laser scanners which monitor the people it interacts with. The combined use of control, perception and predictive systems allows the machine to cooperate with man in any process or sector and without compromise: there is no need, for instance, to control vibrations.
Comau will also be present in other areas of the fair, not just at its own stand. Indeed, our partners will be showcasing 12 robots, including the openROBOTICS version of the SCARA robot, Rebel-S at the B&R booth, and an application using Racer5 in its collaborative configuration at the Schunk booth.
About Comau:
Comau is the worldwide leader in manufacturing flexible, automatic systems and integrating products, processes and services that increase efficiency while lowering overall costs. Headquartered in Turin, Italy, with an international network that spans 17 countries that employ more than 12,600 employees, Comau uses the latest technology and processes to deliver advanced turnkey systems that consistently exceed the expectations of its customers. Comau specializes in body joining & assembly, powertrain machining & assembly, robotics and maintenance, as well as advanced production systems and environmental services for a wide range of industrial sectors. The continuous development of its products and services enables Comau to lead the automation industry in meeting the unique requirements of each customer, and through all phases of the project - from design, implementation and installation, to production start-up and maintenance services.
www.robotics.comau.com
www.comau.com
Featured Product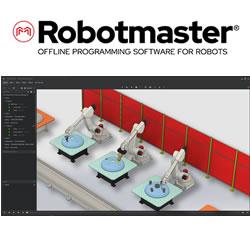 Robotmaster delivers unmatched, full-function off-line programming capability for robots - easy programming of precise robot motion control and quick generation of path trajectories of any size, with minimal programmer intervention. Our strong background in CAD/CAM (Computer Aided Manufacturing) software has enabled us to bring a revolutionary approach to programming industrial robots.