The small robot family is growing based on the existing Racer3 technological platform
Munich, 21 June 2016 - Comau presents the extension of its small robot family

for quick applications in restricted spaces, including handling, assembly and
pick&place, by introducing two new robots - Racer5-0.63 and Racer5-0.80. Both
are controlled by the R1C 19" rack-mounted controller, which can be integrated
into a single cabinet to control an entire line. The robots are also available in the
openROBOTICS version where the robot is directly integrated into the existing
machine/line automation controlled by B&R technologies.
In doing so, Comau keeps the promise made last June with the launch of the
Racer3, when it announced a competitive presence in the small machine sector
within a year.
Both robots are built on the Racer3 technological platform, thus offering solutions
which share the same components and parts, in a strategy aimed at expanding
the integrated range of robots.
In detail, the two new robots expand the capacity of Racer3 in terms of payload
and reach. Racer5-0.63 features a reach of 630mm and payload of 5kg. Racer5-
0.80 is also rated for a payload of 5kg, but has an extended reach of 809mm. All
the other features of Racer3 remain the same, including the sectors and
applications for which they are suited: handling, assembly and pick&place.
About Comau:
Comau is the worldwide leader in manufacturing flexible, automatic systems and
integrating products, processes and services that increase efficiency while lowering
overall costs. Headquartered in Turin, Italy, with an international network that spans 17
countries that employ more than 12,600 employees, Comau uses the latest
technology and processes to deliver advanced turnkey systems that consistently exceed
the expectations of its customers. Comau specializes in body joining & assembly,
powertrain machining & assembly, robotics and maintenance, as well as advanced
production systems and environmental services for a wide range of industrial sectors.
The continuous development of its products and services enables Comau to lead the
automation industry in meeting the unique requirements of each customer, and through
all phases of the project - from design, implementation and installation, to production
start-up and maintenance services.
www.robotics.comau.com
www.comau.com
Featured Product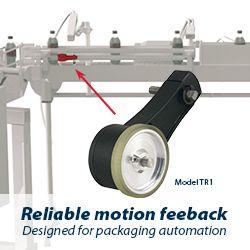 EPC is excited to announce our NEW online 3D Configurator. This new tool makes it even easier to configure EPC's products exactly how you need them for your application. The 3D Configurator interface is intuitive and works in any web browser for both desktop and mobile. It'll only take you a moment to learn your way around the program. Careful, though: it's so fun to play with, you may spend a whole afternoon on it!