The program will assess the usefulness of various Unmanned Aerial Systems (UAS) and a variety of sensors for up close property inspection.
The Property Drone Consortium (PDC), a collaboration that consists of insurance carriers, roofing industry leaders and supporting enterprises is pleased to announce a new research initiative with Rochester Institute of Technology, a renowned world leader in imaging science.

The program will assess the usefulness of various Unmanned Aerial Systems (UAS) and a variety of sensors for up close property inspection.
"The unique collaboration to enhance commercial use of unmanned aerial imaging is very powerful for the members of the PDC. The PDC expects to assess imaging technology that will enable safe operations and inspections while gleaning far more than the eye can see," said Charles Mondello, President of the PDC.
Within the past year, the PDC has secured a number of FAA regulatory approvals including Section 333 exemption grants, a 333 amendment and blanket Certificates of Waiver or Authorization to permit the use of a variety of UAS platforms for aerial data collection including the inspection of properties for the insurance and construction industries. The PDC is working closely with the IBHS to lead the research effort that focuses on the collection and processing of intelligent images utilizing drone platforms and their subsequent assessment for property exteriors, specifically roof damage detection. Now the addition of detailed imaging sensor work will drive the awareness of drone capabilities in the sector.
"RIT looks forward to applying its expertise in remote sensing, sensor technologies, and machine learning to help the Property Drone Consortium to utilize unmanned aerial imaging to its fullest potential," said Professor Carl Salvaggio. "We have never before had access to the data that these platforms and miniaturized sensors will allow us to collect. This data will enable us to see many roof maladies and allow our students to develop methods for automatically identifying these features from the imagery, enhancing the insurance and roofing industries ability to do an even better job of protecting their workers and the public they serve."
PDC President Mondello explained that this research is the tip of the PDC program. "We are looking at funding additional programs in close proximity operations. The PDC is focused on partnerships within the public and private sectors to best understand how the UAS can be safely integrated in inspections and existing workflows to benefit the public," stated Mondello.
About Property Drone Consortium
The Property Drone Consortium represents a collaboration among insurance carriers, construction industry leaders and supporting enterprises who have agreed to work together to promote research, development and the assessment of regulations for the use of Unmanned Aircraft System (UAS) technology across the insurance and construction industries. http://www.propertydrone.org
About Rochester Institute of Technology
Rochester Institute of Technology is home to leading creators, entrepreneurs, innovators and researchers. Founded in 1829, RIT enrolls 18,600 students in more than 200 career-oriented and professional programs, making it among the largest private universities in the U.S.
The university is internationally recognized and ranked for academic leadership in business, computing, engineering, imaging science, liberal arts, sustainability, and fine and applied arts. RIT also offers unparalleled support services for deaf and hard-of-hearing students. The cooperative education program is one of the oldest and largest in the nation. Global partnerships include campuses in Croatia, Dubai and Kosovo.
For news, photos and videos, go to http://www.rit.edu/news.
Featured Product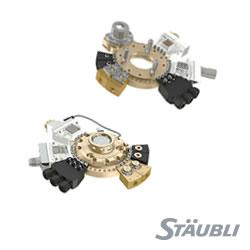 Stäubli is a pioneer in the construction and development of robotic tool changing systems. Our customers benefit from our many years of expertise in all industry sectors, as well as our modular product concept, which offers three efficient solution paths: MPS COMPLETE offers preconfigured robotic tool changers for immediate use. MPS MODULAR allows the user to determine the configuration, while MPS CUSTOMIZED allows the construction of special, application-specific systems.