Sinclair College and The Ohio State University are co-hosting the Second Annual Unmanned Systems Academic Summit in Dayton, Ohio, Aug. 15, 2016.
Dayton, OH - The Ohio State University and the Sinclair College National UAS Training and Certification Center are again partnering to co-host the second annual Unmanned Systems Academic Summit. The Summit, which will be hosted at Sinclair on August 15, 2016, will focus on partnerships and collaborations that are advancing UAS technologies, applications, and commercialization. In addition to Sinclair and Ohio State University, speakers will represent industry leaders and organizations including The Tesla Foundation, Air Force Research Laboratory, Air Force Institute of Technology, Oak Ridge National Laboratory, National Aeronautics and Space Administration (NASA), National Science Foundation Center for UAS, and Federal Aviation Administration ASSURE UAS Center of Excellence.

In addition to the speaking agenda, attendees will have several networking opportunities throughout the day, including a reception hosted in the Sinclair College National UAS Training and Certification Center that will include hands-on UAS simulation, indoor flights, and wind tunnel demonstrations.
"We are excited to partner with Ohio State University to host the Unmanned Systems Academic Summit again this year", said Dr. Andrew Shepherd, director of unmanned aerial systems at Sinclair. "Last year's Summit attracted 80 participants from eight states, highlighting the need for this kind of networking opportunity. We are confident that this year will provide an even greater benefit to the UAS community."
Dr. Jim Gregory, Ohio State University's Associate Director for Unmanned Aircraft Systems at Aerospace Research Center added, "The Summit is truly a world-class event. The experts representing leading organizations focused on advancing UAS technologies and applications makes the Summit a must-attend event for anyone interested in the UAS industry."
Those interested in attending may register at uas.sinclair.edu or by calling 937-512-4848. The Unmanned Systems Academic Summit immediately precedes the UAS Midwest Conference scheduled for August 16 and 17 at the Dayton Convention Center.
Sinclair College's National UAS Training and Certification Center sits at the forefront of UAS innovation, creating partnerships, developing leading curriculum, and investing significantly to establish a nationally prominent program dedicated to meeting the workforce needs of the growing UAS industry. Sinclair's UAS program supports research, development, and training on vehicles and components through advanced unmanned and manned simulation, sensors, avionics, maintenance, advanced manufacturing and rapid prototyping, data analytics, and wind tunnel labs.
Featured Product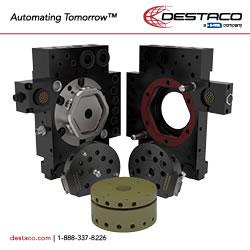 The Accelerate Collection is a range of products designed to help stamping press operators speed up their production lines with higher efficiencies. Working with our customers helped to bring innovative new products to the market, which in turn helps them produce more stamped parts per hour, while reducing moment forces and overall system wear and tear. Accelerate Collection products include Lightweight Tooling, Polyurethane Vacuum Cups, Sheet Metal Grippers, Plastic Proximity Switch Mounts, and new Digital Solutions.