New research from Redwood Software and Shared Services Link reveals that limited understanding is hindering the potential of the robotic revolution
Burnam, United Kingdom, 13th July 2016 - Robotics and Automation specialist, Redwood Software has launched new research in association with Shared Services Link, the online community for finance, shared services and outsourcing leaders. 'The Power of Robotics in Shared Services report surveyed over 100 shared services professionals, revealing that 67% respondents plan on using robotic process automation in the next 12 months. However, varying definitions of the term has led to confusion regarding what can be achieved. 97% are confident that robots can automate manual data entry tasks, though just 52% agree that they can "understand basic finance processes", and just 51% believe they can "replace human activity to be performed by robots end to end".

For the 27% respondents that are currently using robotics, the greatest reported benefits are improved process efficiency (84%), improved accuracy of data (75%) and improved productivity of FTEs (75%).
The research reveals the key perceived advantage of releasing this FTE capacity to be "more time for value-adding activities." 72% plan to leverage existing investment in ERP to drive further automation in the next twelve months.
For those who have reservations about implementing robotics, "not sure on return on investment" is the most common response (42%). 36% report that they "dont have the technical expertise to implement them", while 31% fear that "RPA will lead to jobs loss in general."
Neil Kinson, chief of staff, Redwood Software comments, "When we talk about robotics, we are no longer talking about plugging in 'dumb machines to mimic human activity at the user level, but integrating smart technology with built-in understanding of the end-to-end process and best practice. Businesses are also right to be looking towards their core ERP and sub systems as they integrate robotics, to scale robotics without the overhead of managing desktop sessions, maintain integrity across the entire process, and deliver the most comprehensive audit trail. However, for as long we remain fixated on the idea that robots replace humans - rather than re-imagine processes - businesses will be led to miss the true potential of robotic automation."
The full report is available to download here: https://www.redwood.com/files/pdf/misc/redwood_the_power_of_robotics_white_paper.pdf
-ENDS-
About Redwood Software
Redwood Software is a process robotics and automation technology company, founded in 1993 with a single-minded mission - to help organisations eliminate the costs, risks and wasted time associated with manual tasks.
Its broad set of capabilities position it at the intersection of ERP, cognitive computing and RPA (robotic process automation). Deep ERP and business system domain knowledge enables an end-to-end, process-centric view of automation across areas including Record-to-Report, Order-to-Cash, Procure-to-Pay, Human Capital and Supply Chain.
Redwood has over 3,000 customers worldwide, across a broad range of sectors including financial services, utilities, retail and healthcare. Find out more here: https://www.redwood.com/
About Shared Services Link
Established in 2007, sharedserviceslink is a community for leaders in finance shared services and outsourcing. Offering the latest information, case studies and insight on finance transformation via our website and a portfolio of conferences, masterclasses and webinars, sharedserviceslink aims to accelerate the development of shared services and outsourcing for the finance function.
Follow sharedserviceslink on Twitter (@sslink_HQ). Visit www.sharedserviceslink.com for more details or contact: Rubeena Hassam, Operations Manager, rubeena.hassam@sharedserviceslink.com
Featured Product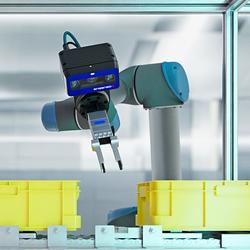 Combining the ease of use of a webcam with the performance and reliability of an industrial camera? The uEye XC autofocus camera from IDS Imaging Development Systems proves that this is possible. Its high-resolution imaging, simple setup and adaptability make it an invaluable tool for improving quality control and streamlining workflows in industrial settings - especially for cases where users would normally employ a webcam. The uEye XC autofocus camera features a 13 MP onsemi sensor and supports two different protocols: USB3 Vision, which enables programmability and customization, and UVC (USB Video Class). The UVC functionality enables a single cable connection for easy setup and commissioning, while delivering high-resolution images and video. This makes the uEye XC camera an ideal option for applications that require quick setup and need to manage variable object distances. Additional features such as digital zoom, automatic white balance and color correction ensure precise detail capture, which is essential for quality control.