Thailand's Dominance in ASEAN Automotive Markets Paves Way for Growth in Robotics Industry, According to Thailand Board of Investment (BOI).
Thailand's Board of Investment (BOI) is seeing an increase in interest from foreign investors representing companies that support the automotive industry. BOI has seen an increase in investment from companies such as robotics giant Nachi and other firms that provide technology and supply chain products to Thailand's growing automotive industry.

A recent Reuters news article dubbed Thailand the "Detroit of Southeast Asia." As demand for vehicles in the ASEAN region becomes stronger year-on-year, manufacturing in Thailand is expected to increase.
In addition to its strength in the automotive sector, the Kingdom is one of the leaders in the robotics industry, which is supported by a growing cluster of advanced manufacturing and university programs, like the Institute of Field Robotics at King Mongkut's University of Technology, Thonburi.
Robotics is an area that is playing a growing role in automotive manufacturing and across a wide range of other manufacturing industries. Growth of the robotics industry in Thailand is expected to increase, as the vehicle manufacturing industry in the Kingdom continues to expand in both commercial and private use motorcycles, trucks, and cars.
In 2016, Thai imports of industrial robotics and automation systems are estimated to top $47.3 million USD, and this number is expected to grow. The imported machinery is mostly used for automotive, electrical appliances and electronics, and in the food processing industry.
According to a study conducted by the International Federation of Robotics (IFR), by 2018, it is expected that Thailand will double its 2015 employment figures in the industrial robotics industry, from approximately 7,500 employees to over 15,000. The study also estimates that yearly shipments of multi-purpose robots to Thailand will increase over 133 per cent for use in the country's growing electronics and automotive industries.
Currently, there are more than 60 companies producing robotic and automation machinery in Thailand, such as Eureka Automation, CT Asia Robotic, Yutaka Robot Systems, Ryoei, and Robosis. These companies have developed and produced industrial robots that meet international standards and are gaining ground with the competition because of their high quality and competitive pricing.
Just last year, ABB opened a Robot Applications Center in Thailand and introduced "YuMi," the world's first truly collaborative dual-arm robot. Other companies who have located robotics operations in Thailand include:
Globax Robot System (Thailand) - a Japanese company that produces Robotic Production Line;
Kuga Robotics - a German company, a world leader in robotics systems, which has located a business operation in Thailand;
Fillomatic Global Industries - an Indonesian company that produces robotic bottle filling machines and robotic bottle capping machines;
Cal-comp Electronics -a Taiwanese company that produces robotic computers.
Thailand has the highest concentration of automotive companies in Asia and the 12th largest automotive production capacity in the world, directly providing vehicles for Indonesia, Vietnam, the Philippines, and other nearby and ASEAN countries. Automotive companies with production facilities in Thailand include: Ford, Isuzu, Mazda, Mitsubishi, BMW, General Motors, Daihatsu, Honda, Mercedes-Benz, Nissan, Tata, Toyota, and Volvo.
As part of its Super Cluster and incentives policy, the Thai Government is offering companies the maximum incentive up to eight years of corporate income tax exemption plus a 50 per cent corporate income tax reduction and import duty on machinery and raw material.
For editors: Link to Reuters story, http://www.reuters.com/article/thailand-autos-idUSL4N19D1N9
About BOI
The Thailand Board of Investment (BOI) is the investment promotion agency for Thailand that facilitates foreign direct investment. BOI's services are free of charge and customized to help business succeed in Thailand. For more information, please visit http://www.boi.go.th and http://www.thinkasiainvestthailand.com
Featured Product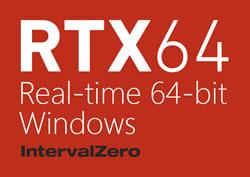 RTX64 turns the Microsoft 64-bit Windows operating system into a Real-time operating system (RTOS). RTX64 enhances Windows by providing hard real-time and control capabilities to a general purpose operating system that is familiar to both developers and end users. RTX64 consists of a separate real-time subsystem (RTSS) that schedules and controls all RTSS applications independently of Windows.RTX64 is a key component of the IntervalZero RTOS Platform that comprises x86 and x64 multicore multiprocessors, Windows, and real-time Ethernet (e.g. EtherCAT or PROFINET) to outperform real-time hardware such as DSPs and radically reduce the development costs for systems that require determinism or hard real-time.