This new DRVS pneumatic drive features a sealed housing to keep dust and debris out of the bushings, while the matched SRBS position sensor is unlike anything in a semi-rotary drive application in terms of fast set up, easy use, flexibility, and repeatability.
Festo introduces today a new pneumatic semi-rotary vane drive and matched contactless position sensor that transforms a relatively simple and low cost drive into a solution that lowers engineering and inventory overhead, is fast and easy to install, and delivers long service life due to its sealed housing.

Standard swivel angles for the DRVS semi-rotary drive are 90, 180, and 270 degrees. Custom swivel angles are possible with a stop bracket accessory. At six bar pressure, the seven different sizes in the DRVS line deliver a torque range of .15 Nm to 20 Nm. Festo sizing software makes ordering the optimum unit for the application fast and accurate. The company guarantees overnight shipping for standard DRVS drives, which lowers inventory requirements for OEMs and assures end use customers fast delivery of replacement parts.
The SRBS ̶ a unique position sensor for a semi-rotary drive
The SRBS, a compact, contactless magnetic position sensor, attaches to the DRVS via a single cable and three screws. During installation, personnel simply move the vane to the drives two positions and with a few clicks of the SRBS push button both positions are located for the position sensing unit. Repetition accuracy is < .0039 inches (.1 mm). Through its push button, the SRBS position sensor can be designated PNP or NPN and NO or NC, which means that one part number covers all the different combinations.
"Festo is fundamentally reshaping its product lines to engineer end-to-end productivity for customers," said Mike Guelker, Festo Product Manager. "Customers are going to like the fast, accurate ordering, delivery, and installation of the DRVS and the flexibility, ease of use, and accuracy of the SRBS."
For more information on the new DRVS semi-rotary drive and matched SRBS contactless position sensor, call 800-993-3786 and/or visit https://www.festo.us.
###
About Festo
Festo is a leading manufacturer of pneumatic and electromechanical systems, components, and controls for process and industrial automation. For more than 40 years, Festo Corporation has continuously elevated the state of manufacturing with innovations and optimized motion control solutions that deliver higher performing, more profitable automated manufacturing and processing equipment.
Connect with Festo: Facebook, LinkedIn, Twitter and YouTube
Featured Product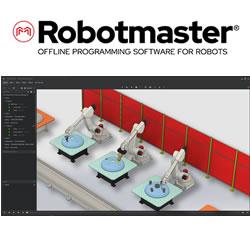 Robotmaster delivers unmatched, full-function off-line programming capability for robots - easy programming of precise robot motion control and quick generation of path trajectories of any size, with minimal programmer intervention. Our strong background in CAD/CAM (Computer Aided Manufacturing) software has enabled us to bring a revolutionary approach to programming industrial robots.