SCHUNK has introduced several improvements on the original PGN-Plus and has announced the newest generation grippers, PGN-Plus-E and PGN-Plus P.
SCHUNK has introduced several improvements on the original PGN-Plus and has announced the newest generation grippers, PGN-Plus-E and PGN-Plus P.

PGN-Plus-E
The PGN-plus-E, the world's first digitally controlled mechatronic gripper with patented multi-tooth guidance is perfect for industrial environments. It has improved the multi-tooth guidance for higher moment capacity, a continuous lubrication pocket in the guide contour, and the proven wedge-hook kinematics with a high surface coverage in all stroke positions. The mechatronic universal gripper is powered by a brushless DC servo motor, which leads to permanently high process stability and a long service life with minimal maintenance requirements are ensured.
The mechatronic universal gripper makes the switch from pneumatic to electric components particularly easy: it has an identical mounting pattern to its pneumatic counterpart, and the
24-V gripper is easily controlled by digital I/O. Up to two gripping positions can also be monitored by means of an additional M8 standard connection. The required control and power electronics are already fully integrated into the compact module, so no additional space is needed in the control cabinet.
PGN-Plus P
With the PGN-Plus-P, permanent lubrication is provided through continuous lubrication pockets in the guidance. For short strokes in particular, the principle of minimum quantity lubrication ensures quick and even distribution of the lubricant making the gripper nearly maintenance-free and considerably extends its service life.
The PGN-plus-P also has an enlarged drive piston area which increases grip force so that higher workpiece weights can be handled. In addition to the larger piston, the wedge drive mechanism has been redesigned for lower friction and greater surface area which transmits more energy to the jaws creating even more grip force than previous generations.
*Come visit us at IMTS 2016 at Booth W-2000*
About SCHUNK
SCHUNK is a German family-owned company and global player in one. More than 2,500 employees in 8 plants and 30 directly owned subsidiaries and distribution partners in more than 50 countries throughout the world ensure an intensive market presence. SCHUNK designs and manufactures an unmatched selection of clamping technology and gripping systems.
Featured Product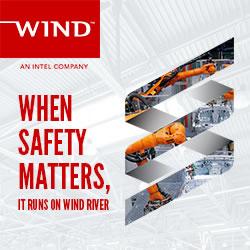 When it comes to ensuring the development of can't-fail systems, Wind River® is a leader with a proven track record of success. With more than 30 years of experience in embedded software and a portfolio of products deployed across more than 2 billion devices, Wind River delivers safety and security when it counts most. From industrial automation to automotive systems, as well as in healthcare devices, railway operations, and throughout the aerospace and defense sector, Wind River has extensive expertise providing built-in safety for complex, connected, safety-critical systems.