Automation Powered by inVia Robotics GrabIt and TransIt Robots Improves Efficiency and Profitability While Ensuring Scalability
LOS ANGELES--(BUSINESS WIRE)--inVia Robotics today announced the national availability of its worlds first "goods-to-box" robotics system, which was created to transform the fulfillment and material handling operations of e-commerce providers and warehouses.

inVia Robotics provides an automated turnkey system that increases the efficiency of its customers businesses by fitting into existing workflows, without requiring companies to reconfigure their floors or change shelving. Its robots integrate seamlessly with warehouse management systems (WMS) and enterprise resource planning (ERP) solutions to maximize existing technology investments while adding functionality and adaptability to a changing environment at a low relative cost.
"E-commerce is booming, but retailers are struggling to keep up with consumer demand, due to rising price pressures, increasing expectations for faster delivery and a shortage of warehouse labor," said Lior Elazary, CEO of inVia Robotics. "For decades, the man-to-goods model reigned supreme, but now with robots in the warehouse, goods can autonomously navigate across warehouses to be sent to their final destinations quickly and cheaply. Robotics is the next evolution of automation and unlocking its benefits will enable more businesses to stay competitive, which will positively impact the industry and economy."
The top three challenges facing supply chain executives, as identified by a Deloitte and MHI survey, are hiring and retaining a skilled workforce (58 percent), meeting customer demand for fast response times (56 percent) and lowering delivery costs (56 percent). Robots potential to improve productivity offers a solution for all of those challenges by working alongside human workers to pick and ship more products faster for less cost per pick. In fact, 94 percent of chief executives who already use robots in their businesses believe they have increased productivity, according to recent PwC research.
The companys solution is available through a disruptive Robotics as a Service business model that requires a minimal upfront investment, enabling more businesses to take advantage of robotics productivity gains. Customers pay monthly for each robot, which allows them to quickly scale up or down to meet seasonal or fluctuating demand. If a robot malfunctions or requires an upgrade, inVia Robotics will swap it out to ensure downtime is minimized.
inVia Robotics innovative approach to service robotics is already dramatically improving the warehouse operations of several of the worlds biggest e-commerce providers. Its customer LD Products, one of the largest printer and office supplies companies, has automated what used to be manual processes and helped it overcome labor shortages and seasonality while scaling as its business grows.
"inVia Robotics gives us the edge to compete with some of the larger e-commerce companies," said Aaron Leon, CEO and founder of LD Products. "Since we launched our inVia Robotics system, order accuracy has shot up through the roof. We also are processing a lot more orders with the same amount of people, so it has reduced our labor cost per order and increased customer satisfaction. Additionally, its Robotics as a Service model gives us cost certainty, as we know how much were going to pay per pick. We dont need a huge capital expenditure to hit the ground running and the speed of deploying a new system will expedite how quickly we can open up a third fulfillment center in the U.S."
inVia Robotics GrabIt robot can lift items up to 30 lbs. and up to 24 inches wide, ranging in size from a deck of cards to a 24-pack of soda. It can also reach up to eight feet and work for 10 hours on a single battery charge. Competing robotic solutions typically can only handle items weighing about three to six lbs. and have a limited reach into shelf space. Once a product is picked, a GrabIt can offload an item to its companion, TransIt, which can accumulate orders and zip them to an awaiting box to be shipped.
Its Robotics Management System enables its customers to dynamically change their workflow in real time as well as minimize wait times, empowering businesses to change their processes on-the-fly. It works alongside the companys Robotics Operation Center, which notifies inVia Robotics of any issues that need to be addressed, to ensure that a robotic fleet is performing the right tasks and functioning properly at all times.
For information on pricing and inquiries about inVia Robotics capabilities, please contact sales@inviarobotics.com.
Resources
Click here to watch a video about how inVia Robotics has transformed LD Products warehouse.
Connect with inVia Robotics on LinkedIn and Twitter.
About inVia Robotics
inVia Robotics is the worlds first goods-to-box robotics system that evolves the productivity of warehouses without disrupting operations. Its goal is to create simple, intuitive, and affordable robotic automation solutions that can scale with your business. For more information, visit www.inviarobotics.com.
Featured Product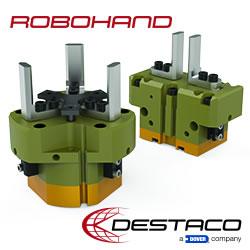 Automatically change end effector tooling quickly and easily with Destaco's Automatic Tool Changers. Designed with exceptional repeatability, high rigidity and load capacity, they are perfect for multiple tooling applications utilizing one robot. We offer different models and sizes to handle light-duty to heavy-duty applications. Our RQC/RTP Series provides a high level of flexibility with a configurable, modular design that accommodates up to four optional modular interfaces.