Over twelve demos to showcase the Collaboration, Simplification and Digitalization that are the hallmarks of the flexible, agile and efficient factory of the future
Auburn, Hills, Mich. August 30 2016 - ABB will feature more than a dozen innovative robotic demos at the 2016 International Manufacturing Technology Show (IMTS), September 12-17 at McCormick Place in Chicago. Occurring every two years, IMTS is one of the largest industrial fairs in the world, featuring the widest range of the latest manufacturing technology under one roof, for six full days. The theme of the ABB booth (# N-6251) is Collaboration, Simplification and Digitalization, as ABB showcases its latest technology designed to provide manufacturers the flexibility and agility necessary to truly build the "Factory of the Future!"

As manufacturing moves from mass production to mass customization the flexibility to efficiently change and adapt production becomes critical. This requires increased collaboration between people and robots, between islands of automation and even between production sites. It also demands simplification to reduce programming time and provide intuitive human-machine interfaces, which allow manufacturers to seamlessly accommodate numerous products on a single system. Digitalization ties it all together, where actionable information drives better decisions, and helps manufacturers unlock the benefits of ABBs concept of the Internet of Things, Services and People (IoTSP), increasing productivity, flexibility and efficiency along the manufacturing value chain.
"Many manufacturers understand the importance of embracing these innovative technologies, but seek a clear industry leader to help effectively tailor them to their specific applications," said Gustavo Sepulveda, ABBs USA robotics general manager. "ABB is that leader, helping its customers manage this transition towards the factory of the future, while building their competitive edge for efficiency, reliability and market agility."
Highlights of the ABB at IMTS 2016 booth include:
Collaboration
YuMi®: No barriers, no cages, no zones - the worlds first truly collaborative dual-arm industrial robot. YuMi is designed to work very closely with humans in a wide variety of small parts assembly and handling applications. The booth will feature two separate YuMi demos:
• A vision-enabled, small parts assembly application, with the ABB FlexFeeder™, an ultra-compact flexible parts feeding system designed for small parts assembly;
• An interactive, hands-on demo allowing attendees to program YuMi using ABBs easy-to-use, lead-through programming technology.
Simplification
Robotic Machine Tending: Cutting-edge automation technologies designed to optimize machine tool efficiency and increase manufacturing productivity. With the recent acquisition of SVIA, the featured products include new additions to the ABB machine tending automation portfolio. The systems are quick and easy to install, feature a friendly human/ machine interface, and are suited for the full variety of machining applications and industries.
IRB 1200 Foundry Plus 2: Foundry robots have long contributed to the productivity and speed of heavy-duty metal casting and automotive applications, and are now becoming increasingly important in consumer electronics applications to cast light weight metals. ABBs new IRB 1200 Foundry Plus 2 is a compact robot that can increase flexibility and reduce cycle times for precision casting processes such as smart phone cases and other electrical components.
Programming: RobotStudio®, ABBs industry leading software tool for programming, configuration and virtual commissioning, designed to maximize the productivity and greatly simplify the user interface of ABB robotic systems across all applications. The demo highlights the RobotStudio interface with an all-in-one touch PC.
Digitalization
Connected Services: An exciting new IoTSP platform for robots that can prevent up to 25 percent of incidents, and speed response times and issue resolution by up to 60 percent. With over 5,000 robots connected in almost ten years, ABB is the clear connected leader in the robotics industry.
Further information for editors:
ABB Robotics is a leading supplier of industrial robots - also providing robot software, peripheral equipment, modular manufacturing cells and service for tasks such as welding, handling, assembly, painting and finishing, picking, packing, palletizing and machine tending. Key markets include automotive, plastics, metal fabrication, foundry, electronics, machine tools, pharmaceutical and food and beverage industries. A strong solutions focus helps manufacturers improve productivity, product quality and worker safety. ABB has installed more than 300,000 robots worldwide.
All ABB Robotics' products are fully supported by the ABB Robotics global sales and service organization in 53 countries and over 100 locations.
Visit www.abb.com/robotics for further information.
Featured Product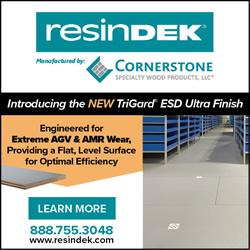 We know that the durability and condition of floors are important for optimal performance of AGV's and AMR's. Coefficient of friction, surface roughness, floor flatness, gloss, and wear can all affect the ability of robots to run at their peak performance. That's why we go to great lengths to extensively test internally and send our products to be evaluated by independent laboratories as well as the robotic manufacturers. In addition, we can customize the finish for any specification required.