U. of Alaska, U. of North Dakota to adopt IRIS UAS software for BVLOS drone research
Kongsberg Geospatial, an Ottawa-based developer of real-time, mission critical, geospatial visualisation software, and the Federal Aviation Administrations ASSURE UAS Center of Excellence, lead by Mississippi State University, announced today that the Alaska Center for Unmanned Aircraft Systems Integration (ACUASI) at the University of Alaska Fairbanks, and the University of North Dakota Center for Unmanned Aircraft Systems Research, Education and Training will both be adopting and integrating the Kongsberg Geospatial IRIS UAS display application into their flight operations as part of Detect And Avoid (DAA) and beyond visual line-of-sight (BVLOS) operations.

The Alliance for System Safety of UAS Through Research Excellence, or ASSURE, team is comprised of 22 universities and over 100 industry partners, providing the FAA with access to a team of scientists in the UAS community and coordination of activities to achieve common UAS research goals.
Kongsberg Geospatial has been providing technology for military UAV platforms for over a decade, and is now actively working with industry and regulatory groups in the United States and Canada to develop a simple, portable display for civilian UAV operators that provides them with a unified situational awareness picture combining a wide range of live data feeds into an easy to understand display format.
"I am very excited by this technology and how it will assist beyond line of sight flight operations. Both UAF and UND have strong operational programs, and can provide the kind of feedback Kongsberg needs to support the geospatial visualization demands that that long-range linear infrastructure and maritime missions require" said Marty Rogers, Executive Director, ASSURE FAA UAS Center of Excellence.
"ACUASI and our partners in the Pan-Pacific UAS Test Range Complex (PPUTRC) are pleased to provide a diverse set of environmental conditions for testing the Kongsberg Geospatial IRIS display technology. Our beyond-line-of-sight missions off the coasts of Alaska, Hawaii, and Oregon will allow us to test the technology under difficult and data-limited conditions" said Dr. Cathy Cahill, Director of ACUASI.
"In our UND flight trials to begin shortly we will be comparing a range of ground-based and airborne technologies for small UAS DAA systems" said Dr. Mark Askelson, ASSURE Lead for Small UAS DAA Requirements Necessary for Limited Beyond Visual Line of Sight (BVLOS) Operations. "Operator situational awareness is a key requirement in these trials and we are very pleased to incorporate the Kongsberg Geospatial IRIS display technology into our operations"
"The expertise and capability of the ASSURE team members University of Alaska Fairbanks and University of North Dakota are exactly the type of partnerships we are looking for to help refine our technology" said Ranald McGillis, President of Kongsberg Geospatial. "These two institutions are leading the world in UAS operations and we are very pleased to support their flight operations going forward"
To learn more about Kongsberg Geospatial, visit their website at http://www.kongsberggeospatial.com.
Featured Product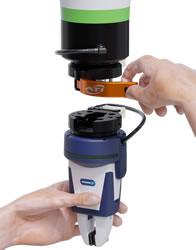 ATI Industrial Automation's MC-10 Manual Tool Changer provides a cost-effective solution for quickly changing tools by hand. Its compact yet robust design is optimized for collaborative robot applications. The ergonomic twist-collar locking mechanism ensures a secure attachment of the tool and easy manual operation with tactile feedback. This Manual Tool Changer can carry payloads of up to 22 lbs and includes multiple fail-safe features that resist vibration and prevent loosening. The MC-10 Manual Tool Changer has integrated air pass-through connections and options to connect electrical utilities if needed. ATI will feature the new MC-10 along with a variety of other robotic demonstrations and product displays at this year's IMTS show in Chicago (Booth #236417).