mk North America revamps its VersaMove brochure to include in-depth technical specifications and information about the various system upgrades and improvements.
mk North America, an industry leader in conveyor systems and solutions, announces upgrades to its VersaMove Pallet-Handling System, along with a newly-designed brochure for the VersaMove line (Standard, Plus, and Ultra) that combines detailed technical information, standardization and alignment with the companys partners in Europe. This alignment and rebranding will enable mk North America to provide seamless conveyor solutions for its pallet-handling systems worldwide.

"At mk we strive to support our customers around the world to help solve their product handling requirements. We offer many products to our customers, one of which is our VersaMove pallet-handling system. As a global initiative, we are releasing our revised brochure, aligning all mk divisions to use the same nomenclature and product-offering globally to our customers and partners," said Todd St. Pierre, Sales & Business Development Manager for mk North America.
mk North America trademarked the VersaMove logo, and now both mk North America and its European partners (mk Kitz Hispania S.L in Spain and Maschinenbau Kitz GmbH in Germany) are using the same nomenclature in order to internally align and thereby offer consistent technical specifications, globally. Additionally, mk North Americas newly-branded brochure for the VersaMove Conveyor Systems includes more in-depth technical specifications, such as the adaptation of different pneumatics used for various modules that will allow VersaMove to be more economical and robust, with more features and aesthetic appeal.
An example of these upgrades is the optional lubrication system. This lubrication system, combined with the automatic belt tensioning will maximize uptime and minimize service and system maintenance. The VersaMove Standard also underwent structural upgrades, making this solution more robust than its predecessor.
Branding changes to the product line incorporate mk North Americas goal of making product documentation consistent and specific. The VersaMove Standard is now identified as such in printed materials, so as to create a globalized product. Additional technical specifications now present in the VersaMove brochure include more information on loading specs, such as pallets and pallet sizes. These additional details will provide a comprehensive view of the VersaMove line to organizations that utilize conveyor and pallet-handling systems.
About mk:
Originally founded in 1988, mk North America, Inc. first gained notoriety and recognition for its innovative Aluminum Framing System. As the needs of its valued customers continued to expand, the company was able to expand its product offerings at the same time and today produces a wide range of innovative, high-quality components and systems for manufacturing companies and machine builders. The companys original Aluminum Framing System still serves as the base technology in all of the solutions mk brings to market.
To learn more about the VersaMove Standard System, contact mk North America by phone at 860.769.5500, or via email at sales@mknorthamerica.com
Featured Product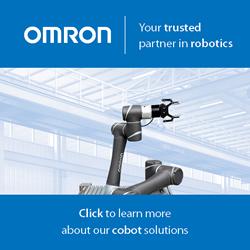 Humans and robots can now share tasks - and this new partnership is on the verge of revolutionizing the production line. Today's drivers like data-driven services, decreasing product lifetimes and the need for product differentiation are putting flexibility paramount, and no technology is better suited to meet these needs than the Omron TM Series Collaborative Robot. With force feedback, collision detection technology and an intuitive, hand-guided teaching mechanism, the TM Series cobot is designed to work in immediate proximity to a human worker and is easier than ever to train on new tasks.