With an increasing number of obsolete components on major manufacturing lines, CNC Center has found a way to keep them running smoothly without downtime.
Cary, NC, September 13, 2016 - Legacy Control Techniques Unidrives live longer than you think.

The CNC Center refurbishment process returns extensively used or faulty units (called "cores") to like-new condition so that customers can get back up and running with minimal downtime. This reduces owning and operating costs by providing customers with same-as-new quality at a fraction of the cost of new parts. Using this refurbishment process, CNC Center decreases greenhouse gas and minimizes waste by reusing raw materials that would have gone into tearing out the manufacturing line to replace it with a new series.
Classic is dying but it doesn't have to:
Manufacturing of the 'Unidrive Classic' generation of variable frequency drives from Control Techniques has come to an end, and as a result a significant install base of these drives with their trademark green plastic covers has been made obsolete. This presents major replacement issues for VFD users. These 'Legacy Classic' Variable Frequency Drives (VFDs), as they are known, have become difficult to find support for since their obsolescence. Spare parts are hard to come by and finding skilled personnel to provide technical support, for both hardware and software, can be a challenge.
The result for the install base is the drives that have been running their motors reliably for many years are no longer supported by the manufacturer that built them. Moreover, when the drives do fail, it will occur at the worst possible time for production; and getting it to run again will be difficult.
CNC Center is able to provide a solution to these problems by working closely with the industry and users of Unidrives. Years of experience gives CNC Center the skills needed to provide refurbished and repaired Control Techniques Unidrive for the replacement of any legacy VFD Unidrive, irrespective of size or software version. Each drive is tested, certified and fully warrantied for a year.
The Process and why it works
Once a damaged unit or returned core arrives at our CNC Center Remanufacturing facility, it is disassembled down to the component parts. Each component goes through a cleaning process and is inspected against strict specifications to determine if it can be effectively re-used. These industry leading remanufacturing techniques make it possible for CNC Center to return otherwise unusable core parts to like-new performance specifications.
Repair or Refurbishment of a legacy Control Techniques Classic Drive involves CNC Center breaking down and surveying the system, understanding its functionality and then preparing a detailed functional design specification for a replacement system. CNC Center is uniquely qualified to perform these functions, as it has its own complete in-house electrical design and build capability, where full systems can be designed and manufactured. This is complemented by software services that cover the full spectrum, from CNCs through SCADA to DCS, and high level languages such as C# & VB DotNet. Database work, including real time industrial databases, is also used. In addition, CNC Center has the skills to configure and program machine vision systems, servo systems and robots.
"There are a number of very good reasons for supporting an old line of drives with warranted refurbished units. Introducing a new set of drives into a legacy environment can be a timely and costly task," said Al Becker, a repair / refurbishment manager at CNC Center. "The first of these is Timing. The change over to a new drive line needs to be timed to suit production demands, and so the impact on production is minimized. The second is Cost. An upgrade, executed in a normal manner or under an emergency situation is costly, not only in capital expense for the drives, but also the long term as any payback potential is often unrealized as planned. Third, and final, is Functionality Improvements. If the drive upgrade is left until the failure occurs, then there will be a high pressure situation for all involved to get the new drives in and running again as quickly as possible. As a result, new product features will be low on the priority list and will not be implemented. Installing refurbished units allows the line to continue to run as it did previously, and any potential improvements that could have given a meaningful payback will have been lost."
Customers have been satisfied with CNC Center's repair and refurbishing process and results. One customer recounts their experience with CNC Center's outstanding service:
"CNC Center did the best possible re-furb on these boards and then sending them to us with the required accessories. We are up and running now whereas should we have chosen an alternate product, we would have had to change our entire installation wiring and we are still ahead of the game by using them to provide us these hard-to-locate replacement boards. We are back in business with our machinery in a little under a week's time with two spare circuit boards for future use in repairs."
For more information visit https://www.CNCCenter.com
Featured Product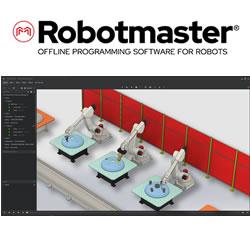 Robotmaster delivers unmatched, full-function off-line programming capability for robots - easy programming of precise robot motion control and quick generation of path trajectories of any size, with minimal programmer intervention. Our strong background in CAD/CAM (Computer Aided Manufacturing) software has enabled us to bring a revolutionary approach to programming industrial robots.