Weld-slag and oil resistant WSOR jacket cables certified for use with Ecolab® solutions in food and beverage manufacturing and processing plants and many other industrial applications
LISLE, Ill.--(BUSINESS WIRE)--Molex announced that Flamar, a Molex company, has launched a complete line of standard industrial automation cables for signal and control equipment and processes, servomotors, I/O modules, EtherNet IP and other network applications.

Flamar standard industrial automation cables are available in multiple jacket materials (PVC, WSOR, PUR, TPE). The weld-slag and oil-resistant WSOR cables are tested and certified for compatibility with Ecolab® hygiene solutions commonly used in the food and beverage industry for completely safe plant cleaning.
"Flamar brings unrivaled cable expertise to assure superior performance, quality and durability," states Claudio Lerose, global product manager, Molex. "From design to finished product, Flamar is a reliable and flexible partner in custom—and now standard—cables for industrial automation."
Machine builders, line builders, robotic and system integrators can choose Flamar standard industrial automation cables in a range from 26 AWG (0,14mm2) to 10 AWG (6mm2) suitable for applications in food and beverage, material handling, automotive lines and other manufacturing operations as well as commercial vehicles (forestry, mining machines). Engineered and constructed to solve tough challenges as drag chain installation (continuous flexing up to millions of bending cycles), the cables are rated for temperature ranges down to -40°C (-40°F) and up to 105°C (221°F). They are compatible with all standard industrial connectors, including RJ45, and the Brad® range of circular connectors (M8, M12, M23) for servo motors, as well as mPm® DIN valve and Molex Heavy Duty connectors.
The Molex logistics network supports the distribution of Flamar standard industrial automation cable in multiple package sizes (small, medium, large) with small minimum order quantities. From a manufacturing standpoint, state-of-the-art extrusion lines and back-torsion cabling machines meet top quality standards. An internal reliability and testing laboratory performs mechanical, electrical, flame resistance, drag chain tests and validates cable developments in compliance with many agency approvals. All Flamar standard industrial automation cables are UL AWM/CSA certified and specific series also UL listed.
"Our advanced manufacturing methods assure that Flamar standard industrial automation cables meet the most rigorous standards at a competitive cost to customers," adds Lerose.
Molex booth (E-4110) will showcase Flamar standard industrial automation cables at the upcoming Industrial Automation North America at IMTS 2016 conference in Chicago.
For more information about Flamar standard industrial automation cables, please visit www.molex.com/link/flamar.
About Molex:
Molex brings together innovation and technology to deliver electronic solutions to customers worldwide. With a presence in more than 40 countries, Molex offers a full suite of solutions and services for many markets, including data communications, consumer electronics, industrial, automotive, commercial vehicle and medical. For more information, please visit www.molex.com.
Featured Product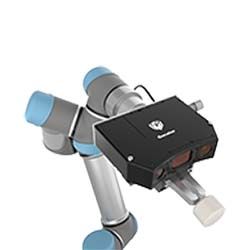 Easily integrate Gocator® 3D line profile and snapshot sensors with a variety of industrial robots to deliver high-performance 3D results in vision guidance, flexible inspection, material dispensing, and automated assembly with smart pick-and-place. Adding 3D vision to a robot turns repetitive, fixed motion into smart movement that can unlock greater value for your automation investment.