Patent Pending Robots Built for Instantaneous and Highly-Precise Force Feedback Applications and Movement Across Unknown, Rough and Vertical Terrains for Commercial, SAR and Military Markets
PHILADELPHIA, Sept. 14, 2016 /PRNewswire/ -- Ghost Robotics, LLC, a leader in research and development of legged, direct-drive (gearless) and proprioceptive robotics technologies announced today that it has launched its first patent-pending direct-drive legged robot platform, Ghost Minitaur™ (Ghost Minitaur intro video).

Founded by University of Pennsylvania PhD candidates, Avik De and Gavin Kenneally, Ghost Robotics is researching and building next-generation legged robots that are superior to wheeled and tracked autonomous vehicles in many field applications. The companies underlying research and intellectual property have additional applications in surgery, lab operations, healthcare and advanced gait research. The company launched October 2015 and is backed by the University of Pennsylvania and PCI Ventures, which incubate Penn's leading research and innovations.
"We are extremely excited to be launching our first commercial robot platform, Ghost Minitaur™," said Gavin Kenneally, Co-founder of Ghost Robotics. "This has been a long journey in the conceptualization and development of the robot, and we see many applications for the platform ahead and underlying technology," added Avik De, Co-founder.
Ghost Minitaur™ is a patent-pending medium-sized legged robot highly adept at perceiving tactile sensations. Its high torque motors, motor controllers, and specialized leg design allow this machine to run and jump over difficult terrain while actively balancing, climb fences, and rapidly reorient from falls. High-speed and high-resolution encoders let the robot see and feel the ground through the motors and adapt faster than the blink of an eye.
A key application includes deployment of Ghost Minitaur™ as an autonomous sensor vehicle for public safety, military, exploration, mining, agricultural and hazardous environment operation. The robot can also be used in advanced gait R&D and can be programmed for a range of gaits (bounding, crabbing, walking, trotting), climbing stairs and fences, and even opening doors.
"The forward thinking vision of both Gavin and Avik is quite impressive," said Jiren Parikh, Ghost Robotics, CEO. "The market opportunity for legged robots in operating environments where wheeled or tracked robots have limitations is substantial."
About Ghost Robotics
Robots that Feel the World™. Ghost Robotics develops patent pending direct-drive (gearless) legged robots for instantaneous and highly-precise force feedback applications, offering superior operability over wheeled and tracked robots. The lightweight Ghost Minitaur™ robot platform can be used as an autonomous vehicle fitted with sensors and carry payloads for public safety, SAR, exploration, mining, field survey, agriculture, military, medical support and other applications where unknown, rough, varied and even vertical terrain is present. Ghost is privately held and backed by the University of Pennsylvania and PCI Ventures, with offices in Philadelphia. www.ghostrobotics.io
MEDIA CONTACT:
Jiren Parikh
CEO
jiren.parikh@ghostrobotics.io
+1 215-820-6548
Video - http://origin-qps.onstreammedia.com/origin/multivu_archive/PRNA/ENR/Ghost-Minitaur-Intro.mp4
SOURCE Ghost Robotics, LLC
Related Links
http://ghostrobotics.io
Featured Product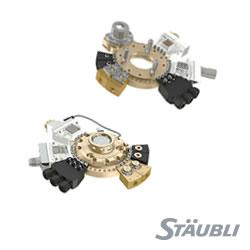 Stäubli is a pioneer in the construction and development of robotic tool changing systems. Our customers benefit from our many years of expertise in all industry sectors, as well as our modular product concept, which offers three efficient solution paths: MPS COMPLETE offers preconfigured robotic tool changers for immediate use. MPS MODULAR allows the user to determine the configuration, while MPS CUSTOMIZED allows the construction of special, application-specific systems.