AEC firms can now own an aerial analytics platform that is fully integrated with Autodesk tools for reality capture and cloud analysis
U.S. CAD, an AEC technology and solutions consultant and Autodesk Platinum Partner, announces today its partnership with 3D Robotics (3DR), North Americas largest enterprise drone company, to provide building and design teams with access to Site Scan, 3DRs complete enterprise package designed for surveying, scanning, and inspections.

Drone and aerial data capture technology are becoming increasingly valuable to field professionals working in the construction, mapping, infrastructure, utility, and telecommunications industries. Implementation of these tools, however, is thought to be cumbersome, expensive, and difficult to integrate with existing workflows. U.S. CAD and 3DR look to address these concerns with that complete Site Scan solution that provides the hardware, software, and support necessary to help make teams successful.
"We are proud to partner with 3DR to offer our customers a fully automated, enterprise class system like Site Scan that integrates with familiar Autodesk solutions such as Revit, Civil 3D, and ReCap," states Chris Keck, Director of Professional Services for U.S. CAD. "Together, we can help firms reduce operational costs, mitigate risks, and make better-informed decisions when it comes to their building, infrastructure, or construction project."
"Capturing site data today is costly, time consuming and often dangerous. Drones can easily go where its inefficient or unsafe for field personnel, making it easier to accurately measure our world so we can better manage it," said Brent Pirruccello, VP of Enterprise at 3DR. "Were delighted to partner with Autodesk [Platinum] Partner — U.S. CAD — to deliver Site Scan, a complete solution for site capture that will help our customers save time, save money and keep humans out of harms way."
The Site Scan package includes a Solo drone, Sony tablet with the required mobile app, and unlimited access to the 3DR cloud. For more information about Site Scan, as offered by U.S. CAD, please visit https://uscad.com/solutions/site-scan/
About U.S. CAD
U.S. CAD is an AEC industry consultant, Autodesk Certified Platinum Partner, and Bluebeam Platinum Partner serving customers in the Western United States. U.S. CAD specializes in helping its customers integrate BIM, sustainable design, and analysis solutions by incorporating a variety of Autodesk solutions along with consulting, implementation, training, BIM modeling and production, configuration and support services. Headquartered in Newport Beach, CA with additional offices in Los Angeles, San Diego, Honolulu, Scottsdale, and Las Vegas, U.S. CAD has become the solutions provider of choice for many of the Wests leading companies. For more information, visit http://www.uscad.com or call (877) 648-7223.
About 3D Robotics
3DR makes advanced drone technology easily accessible to the construction, mining and surveying industries for use in data analysis, mapping, 3D modeling and more. 3DRs flagship enterprise product Site Scan is a complete camera-to app-to cloud system that makes it safer and easier than ever for enterprise and commercial users to collect and process aerial data, perform inspections and improve business operations. For more information on 3DR, please visit 3DR.com.
# # #
Autodesk and the Autodesk logo are registered trademarks or trademarks of Autodesk, Inc., and/or its subsidiaries and/or affiliates in the USA and/or other countries.
Featured Product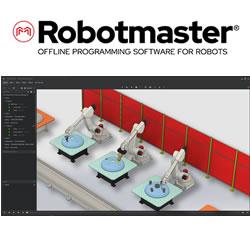 Robotmaster delivers unmatched, full-function off-line programming capability for robots - easy programming of precise robot motion control and quick generation of path trajectories of any size, with minimal programmer intervention. Our strong background in CAD/CAM (Computer Aided Manufacturing) software has enabled us to bring a revolutionary approach to programming industrial robots.