More than 700 Megawatts Awarded To Date
PR Newswire, SAN JOSE, Calif. - September 20, 2016

SunPower Corp. (Nasdaq: SPWR) announced today that the third-generation SunPower® Oasis® platform for large-scale solar power plants, featuring a seamless integration of hardware and software unprecedented in the solar industry, is launching at an event today at SunPowers new research and development facility in Davis, Calif.
"The Oasis platform is a complete solution that optimizes energy production and maximizes value for our power plant customers," said Tom Werner, president and CEO of SunPower. "Integral to each Oasis component, from the automated design tools to robotic panel cleaning, is more than 30 years of solar industry innovation and experience that only SunPower offers, enabling our customers to benefit from the worlds most efficient, reliable solar technology available."
With more than 700 megawatts of the third-generation Oasis platform projects awarded to date, SunPower is starting construction on solar power plants in North America and China using the technology in the next several weeks. Beginning next year, all new solar power plants from SunPower will be constructed using the third generation Oasis platform.
"SunPower Oasis allows customers to generate more value from a broader selection of potential power plant sites, at an accelerated pace," Werner continued. "An Oasis solar power plant may be designed 90 percent faster than the time required to design conventional solar power plants. While flat, rectangular-shaped sites are required for other trackers on the market, Oasis can take advantage of unused irregularly shaped areas and slopes up to ten degrees to generate up to 60 percent more energy than conventional technology installed at the same site. Each additional ten acres of usable land on a site may represent two to four more megawatts of power, which can significantly impact a projects bottom line."
From project development through operations and maintenance (O&M), the Oasis platform optimizes return on investment with the following features:
The SunPower® Oasis GEO™ system is a groundbreaking component of the Oasis platform that automates project design using drones and proprietary software. Thousands of designs are generated and evaluated by the software, based on site data gathered by the drones, and designs that best serve the customers financial and energy goals are recommended. Developers can screen a large number of potential sites quickly using the cloud-based computing platform and owners can be assured that projects have been fully optimized for profitability and lowest cost of energy (LCOE) versus conventional manual-based approaches to project design and development.
Oasis tracker rows are un-ganged, or not linked, and are wider and shorter in length than conventional trackers to enable flexible site selection, more efficient site utilization and increased energy production. The design allows for plants to be built on lands formerly considered unsuitable for plant development due to irregular shapes or slopes steeper than six degrees, the gradient limit for most competitors tracker technology. Oasis systems can be built on slopes up to ten degrees, or 17 percent.
Greater distance between the Oasis tracker rows accommodates integrated agricultural activity to enable dual use of sites for both power and food production. SunPower is partnering with University of California, Davis, a global leader in agricultural studies, to evaluate possible crop varieties and yield. As the number of solar power plant developments continue to grow around the world, the thoughtful integration of large-scale solar power systems with agricultural lands is an important consideration.
More than 50 percent fewer tracker parts and an integrated design streamlines construction and reduces O&M costs. Oasis has no combiner boxes, cable trays, motor batteries or other parts that typically cause failure. All DC wiring of the trackers is managed above ground with pre-manufactured DC harnesses to simplify and speed installation.
The fully integrated design supports both SunPowers high efficiency E-Series panels as well as SunPowers Performance Series (P-Series) solar panels. Both panels deliver industry leading long-term performance and reliability while reducing balance of system costs and land requirements.
Soiling can be a leading source of potential revenue loss for power plant owners. SunPower utilizes proprietary robotic panel cleaning technology at its power plants that uses 75 percent less water than manual cleaning methods and operate at night to avoid disrupting daytime energy production. Robots under development for use with the third-generation Oasis platform are expected to have the capability to clean ten megawatts of panels in ten hours with three workers, twice as fast as the companys current robotic cleaning technology, and ten times faster than manual cleaning methods used by competitors.
SunPowers Remote Operations and Control Center (ROCC) in Austin, Tex. offers 24/7/365 site monitoring and control, optimizing energy production to allow customers to better manage their energy. The ROCC will be monitoring and controlling more than 1.8 gigawatts of solar power plants around the world by the end of 2016.
The SunPower Research and Development Ranch, where SunPower is launching the new Oasis platform today, will host concept testing for new technologies that drive continued innovation in the energy industry. SunPower anticipates the R&D Ranch will create dozens of jobs in research and technology over the next five years. A leader in solar innovation and solar R&D investment, SunPower holds more than 600 patents.
Distinguished guests expected at todays event include Dr. Charlie Gay, director of the U.S. Department of Energys SunShot Initiative, David Olsen of the California ISO Board of Governors, and SunPower founder Dr. Richard Swanson. The event includes a panel discussion on the future of large scale solar plants, moderated by Greentech Medias Julia Pyper.
Since launching its first-generation Oasis platform in 2010, SunPower has more than three gigawatts of solar power plants installed, under contract or in construction around the world, including the worlds largest operational solar photovoltaic power plant, the Solar Star Projects in California.
The original Oasis platform was the first of SunPowers three fully-integrated systems built to work together for customer goals. The SunPower® Helix™ platform for commercial rooftops, ground and carports was launched in 2016, and the SunPower Equinox platform for residential rooftops made its debut earlier this year.
More information on Oasis can be found on SunPowers blog and at www.sunpower.com/oasis.
About SunPower
As one of the worlds most innovative and sustainable energy companies, SunPower (Nasdaq: SPWR) provides a diverse group of customers with complete solar solutions and services. Residential customers, businesses, governments, schools and utilities around the globe rely on SunPowers more than 30 years of proven experience. From the first flip of the switch, SunPower delivers maximum value and superb performance throughout the long life of every solar system. Headquartered in Silicon Valley, SunPower has dedicated, customer-focused employees in Africa, Asia, Australia, Europe, North and South America. For more information about how SunPower is changing the way our world is powered, visit www.sunpower.com.
Featured Product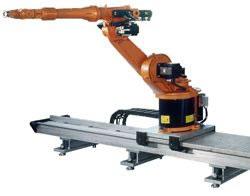 IPR Robotics offers a wide range of servo-driven 7th axis linear rails for industrial robots. These rails come in ten different sizes and are constructed from modular high strength extruded aluminum sections to handle payloads of 100 kg to 1600 kg or from steel to handle 2000 kg payloads. This variety of rail sizes allows each application to be sized correctly, controlling the space required and the price point. The drive train design of these rails utilizes helical gear-racks and is proven over 10 years to be repeatable and reliable, even in tough foundry applications.