Top Layer technology will change how U.S. Armed Forces use unmanned robotics
GAITHERSBURG, Md.--(BUSINESS WIRE)--Roboteam, a leading global provider of tactical ground robotic systems, is showcasing its new real-time 3D-mapping and autonomous navigation technology - "Top Layer" - at the 2016 Association of the United States Army (AUSA) Annual Meeting and Exposition in Washington, D.C., October 3-5.

Roboteam designs, develops, produces and delivers high performance tactical ground robots and controllers that are used within defense, law enforcement and public safety missions. The new technology allows a single-operator to control multiple robotic vehicles while simultaneously and remotely conducting intelligence, surveillance and reconnaissance (ISR) missions. The Top Layer technology enables:
Semi-Autonomous Convoys Through Follow Me
Mesh Communication/Networking
Real-Time 3D, 360 Degree Day and Night Mapping Through Explore Function
Multiple Sensors for Urban and Subterranean Navigation
Convoy Go Home Retrieval Function
"Roboteams Top Layer technology will provide U.S. defense agencies with advanced situational awareness while in the field and in unfamiliar environments," said Shahar Abuhazira, CEO of Roboteam. "Operators can now use robotics as semi-autonomous convoys for missions that could otherwise put soldiers into harms way."
Roboteam will demonstrate the Follow Me functionality of the Top Layer technology, during AUSA at booth #1446, with their man-portable, all-terrain, stair-climbing Micro Tactical Ground Robot (MTGR), equipped with multiple sensors for optimal navigation and real-time information. In addition, Roboteam will show off their Individual Robotic Intelligence System (IRIS), a rugged, three-pound throwable platform that provides standoff detection and stealth reconnaissance with day and night video/audio coverage.
For an interview with a Roboteam representative or to get a one-on-one demonstration of their cutting edge technology and innovation at AUSA, or to schedule a meeting at their Gaithersburg, MD office, please reach out to the press contact listed with this release.
For a video on the new "Top Layer" technology being unveiled at AUSA click here: https://vimeo.com/182240077
About Roboteam
Roboteam designs, develops and manufactures cutting edge, user-oriented, multi-purpose, unmanned platforms and controllers for Defense, Law Enforcement and Public Safety missions. Today, Roboteam is a global operation with offices in the US and Israel serving a wide spectrum of customers with several lines of products. We created a line of lightweight, fast deployable unmanned ground systems that deliver technological and functional breakthroughs for tactical purposes with unmatched reliability. Among our customers, one can find top units within the US Military, Special Forces, EOD units and SWAT teams as well as other elite units around the globe. Roboteams flexible architecture permits a fast development of products, supported applications and core technologies. We pride ourselves on being engineers, inventors, and close to our customers and end-users.
Featured Product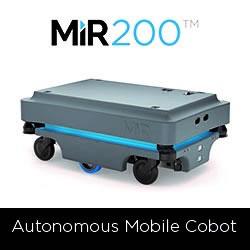 MiR200 is a safe, cost-effective mobile robot that automates your internal transportation. The robot optimizes workflows, freeing staff resources so you can increase productivity and reduce costs. MiR200 safely maneuvers around people and obstacles, through doorways and in and out of lifts. You can download CAD files of the building directly to the robot, or program it with the simple, web-based interface that requires no prior programming experience. With its fast implementation, the robots offers a fast ROI, with payback in as little as a year.