This report studies Industrial Robots in Global market, especially in North America, Europe, China, Japan, Southeast Asia and India, with production, revenue, consumption, import and export in these regions, from 2011 to 2015, and forecast to 2021.
There is no second doubt on previous theories that industrial robots are going to dominate most of human functions, if at least not the humans. The 12th annual RoboBusiness conference was convened during September 28-29, 2016 at the San Jose Convention Center. The event took forward its 11-year legacy of bridging the gap between researchers, investors, vertical users, and solutions providers by putting forth groundbreaking ideas and innovations with commercial potential.

Attendees from a plethora of business segments such as manufacturing, materials handling, retail, and hospitality marked their presence. They observed closely the unveiling of novice business models, products, suggested applications, and to build professional relationships and networks. An approximated 87% of these retain an impressive purchasing authority, and introduce vital changes with their choice of business strategies for making most of the vendors in the global industrial robot market.
The RoboBusiness Conference is not the everyday dose of robotics expo. It is one of its kind, possibly the most dedicated, robotics exhibition, and discussion platform across North America. Key CXO level decision makers from more than 29 countries all over the world attend the event each year. This years convention saw the inclusion of diversified sessions regarding strategic business practices, trending technologies, progressive unmanned systems, logistics & manufacturing support, consumer applications, and professional services.
There has been a recent slowdown in demand from industrial manufacturers. On account of the latest advent of innovators has brought smart interactive bots for social environment on commercial platforms. The paradigm shift from industrial assembly applications to the service segment has been observed by experts in the recent past. Industry 4.0 is achievable and appears mostly feasible because of the standard set of tasks involved. It is the uncertainty of human-machine-human response in the consumer products that fascinates the developers. A universal set of inputs have to be considered to train a robots perception to make it work in a domestic or social environment. These are among the few reasons as to why the RoboBusiness show floor buzzed with small-to-big robots that can cater to a variety of critical needs, right from childcare to speed testing of automotive. In continuation with the previous attempts, there were mini sized robots for logistics and inventory support too; this time with better handling controls.
Aethon, an automated robotic solution provider for internal logistics, was the platinum sponsor of the event. Tim De Rosett, the VP of Industrial Automation of Aethon, conducted a session on autonomous mobile robots at the conference. He opined his stance on the current market in a candid manner in one of his blogs. According to him, industrial robots take up the "dull, dangerous and difficult jobs." Leading companies from all over the world never intend to relieve the experienced professionals from their organizations. Instead, they are alternatively placed at better jobs for the sake of their and companys growth.
What was earlier looked upon as a threat for workforce, suddenly is being looked up to as a "co-worker." Co-bots, for that matter, are industrial robots developed specifically to ease labor-intensive processes. A growing enterprise or utility has expanded operations, which creates plenty of room for more labor engagement. Contradictory to popular belief, not each one of them can be single-handedly attended to within the scope of human strength. Latest class of intelligent bots are in to help achieve a smart industry, and contribute positively to the progress report of the global industrial robots market.
Over the past decade, the industrial robots market has been through major of ups and downs. Motivated by the unbound functional possibilities with the programmed bots, its adoption rates were pretty high over the initial period. Corresponding advancement in electronic sensors and material technology led to remarkable cutbacks in overall costs of implementation. Simplified solutions were delivered on consumer platforms, which could be operated upon with minimal expertise and guidance. The small- and medium-sized enterprises took this chance to place their business operations in terms with global guidelines. As a result, market research yields positive forecasts throughout this decade.
Featured Product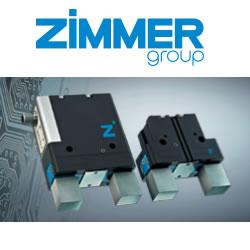 IO-Link is the first standardized IO technology worldwide for communication from the control system to the lowest level of automation.