Summit aims to foster strong collaboration and innovation between the U.S. and China
BOSTON, Oct. 13, 2016 /PRNewswire/ -- InTeahouse, a global network that powers the international innovation economy, is launching its first U.S.-China Robotics Summit. The Summit serves to deepen the relationship established between the Commonwealth of Massachusetts and Guangdong Province of China under the Joint Statement signed on May 12th, 2016. As a bridge for U.S.-China technology innovation, InTeahouse is working with MassRobotics to send executives from 11 regional robotics companies to major innovation cities across China. The Summit will create a deeper collaboration of technologies, talents and capitals between the U.S. and China.

The Summit will be led by Tom Ryden, executive director of MassRobotics, and Val Livada, senior advisor to InTeahouse. Companies participating include iRobot, R-STORM, Artaic, Vecna Technologies, Soft Robotics, Ascend Robotics, GreensightAG, Locus Robotics, NextDroid, Insightfil, and Movia Robotics.
"This new Robotics Summit will bring together the top global robotics technology companies, providing new business and investment opportunities between domestic and overseas markets," said Xin Liu, founder of InTeahouse. "By cultivating this global network, we hope to foster valuable ties between the U.S. and China markets, specifically related to technology, talent and capital."
"As a pioneer in the consumer robotics market, we're excited to be a part of the first ever U.S. - China Robotics Summit," said Chris Jones, vice president of technology at iRobot. "China represents an important growth opportunity for iRobot. This Summit will help us develop new opportunities for cooperation and collaboration with robotics enterprises in both the U.S. and China."
"The ultimate goal of the U.S. - China Robotics Summit is to establish a long-term cooperation mechanism between both U.S. and Chinese startup cultures, entrepreneurs and investors," said Thomas Ryden, executive director of Mass Robotics.
The Robotics Summit trip will take place from October 22 to 30 and will include stops in Shenzhen, Guangzhou, Foshan, Shaoxing and Beijing. There will be a pre-trip reception at The Massachusetts State House on October 13 at 11:00 a.m.
ABOUT INTEAHOUSE
Founded in 2015 by entrepreneur Xin Liu, InTeahouse is a global network that powers the international innovation economy by connecting ideas, capital and tea. InTeahouse's mission is to create environments that drive successful connections throughout the world's economy by building bridges between investors and innovators that bring new technologies to life. InTeahouse is built on the cultural foundation of the Chinese Teahouse to blend personal well-being with successful business ventures. For more, please visit www.inteahouse.com.
ABOUT MASS ROBOTICS
MassRobotics exists to educate, inspire, and bring robotics initiatives, investments, and companies to life. We are an independent, non-profit center serving as the innovation hub for robotics. We bring together groundbreaking startups and existing technology organizations to nurture the next generation of talent, build community, and promote innovation and economic growth. By working with diverse local talent and providing a robotics innovation center with shared workspace and prototype labs, we are helping to bring about the next global evolution of robotics. For more information please see www.massrobotics.org
Featured Product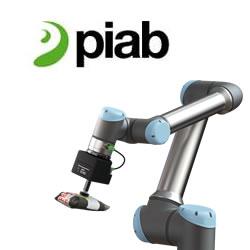 Piab's Kenos KCS gripper enables a collaborative robot to handle just about anything at any time. Combining Piab's proprietary air-driven COAX vacuum technology with an easily replaceable technical foam that molds itself around any surface or shape, the gripper can be used to safely grip, lift and handle any object. Standard interface (ISO) adapters enable the whole unit to be attached to any cobot type on the market with a body made in a lightweight 3D printed material. Approved by Universal Robots as a UR+ end effector.