Aeryon now offers its industry-leading UAS solution for Tactical Response, Search and Rescue, and Traffic Collision Reconstruction applications as an optional monthly subscription.
Aeryon, the premier provider of small Unmanned Aerial Systems (sUAS), announced today at the IACP 2016 conference in San Diego, CA, the availability of a UAS solution to qualified Public Safety agencies on a monthly subscription basis. The solution provides agencies the option of a turnkey monthly program, with fees as low as $99 per day, as an alternative to the typical one-time up front purchase.

With thousands of flying hours recorded and operational customers in more than 35 countries, Aeryon understands the unique requirements needed to establish, grow and maintain a successful UAS program. The introduction of a subscription solution, enables Aeryon to offer its leading UAS and all of the other aspects of an operational program (live streaming, maintenance and spares, fleet management and record keeping, insurance, etc.) in an easy-to-manage monthly package.
Features include:
Program Launch and Support Services - Start-up and ongoing client assistance to validate technical & operational feasibility, along with airspace and data security assurances.
Aeryon SkyRanger UAS - Aviation-grade, rugged and field-proven UAS and payloads.
Assured Operational Availability - In-field hardware redundancy through regular, recurring provisioning of spares, with secure online equipment and operations management through AeryonLive.
Investment Protection - In-life software and equipment upgrades, as well as hull and liability insurance.
Secure, Remote Distribution of Video and Imagery - Low-latency, live video streaming with real-time readout of critical aspects of aircraft location and performance, delivered through the AeryonLive platform.
"We know our UAS deliver results for Law Enforcement agencies, and we have tens of thousands of flight hours to prove it," says Dave Kroetsch, President and CEO, Aeryon. "We also know that those agencies need a procurement model that fits within their budgets, as well as a complete solution that ensures the aircraft has everything it requires to perform; spare part kits, insurance, training, etc. We take care of the entire support of the program, from end-to-end."
Aeryon UAS Subscription Solutions for Public Safety will be available to qualified Public Safety agencies.
For more information about the Subscription Solution, visit us at IACP 2016 Booth #1519, or contact sales(at)aeryon(dot)com.
About Aeryon Labs Inc.
Aeryon Labs is the premier manufacturer of small Unmanned Aerial Systems (sUAS) and live streaming software. We provide solutions and answers as a trusted partner of civil and military customers, enterprise commercial businesses and resellers around the globe. Aeryon Labs is a North American company supported by one of the largest technology investors in Silicon Valley. Field-tested and mission-proven, Aeryon sUAS set the standard for immediate aerial intelligence gathering by anyone, anywhere, anytime.
For more information visit: http://www.aeryon.com
Featured Product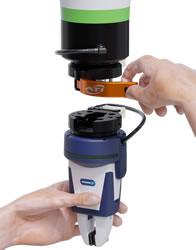 Simpler, stronger, and more precise. ATI Industrial Automation has developed a series of Manual Tool Changers that provides a cost-effective solution for quickly changing tools by hand. They feature a unique design that combines high strength, excellent repeatability, and a patent-pending screw-cam locking mechanism with multiple fail-safe features, which resists vibration and prevents loosening. These robust and compact Manual Tool Changers can handle payloads up to 80 pounds (36 kg) and pass pneumatics and electrical signals.