"Massachusetts Robotics Cluster" Report Identifies World-Class Companies and Research Centers Driving Innovation, Outlines Opportunities for Future Growth
BOSTON - New research released today by the Massachusetts Technology Collaborative cites 122 companies that now comprise the Commonwealths robotics cluster and that these firms employed over 4,700 workers and generated over $1.6 billion in revenue in 2015 alone. The report also identified 33 new robotics startups that were created in Massachusetts over the past five years, an increase of 31 percent. In addition to an assessment of the current state of the industry, "The Massachusetts Robotics Cluster" report also outlines the key robotics sub-sectors where the Commonwealth is taking a global leadership role, including marine robotics, eCommerce logistics technologies, and collaborative robotics.

The new research report, commissioned by MassTech and authored by ABI Research, provides Massachusetts economic development and technology leaders with an actionable roadmap that spells out ways that the Commonwealth can grow the robotics sector statewide, building off of the foundation of innovative robotics companies, world-class research universities, and skilled technical labor force. As part of this roadmap, the report outlines four specific strategies to support the sustainability and growth of the robotics cluster statewide, including talent development, technology implementation, brand building, and cluster expansion. Under those strategies "prioritized recommendations" crafted by ABI Research to accelerate cluster development and enhance the impact of Massachusetts robotics technologies.
"This study confirms that our strong academic and R&D centers provide the Commonwealth with a base of robotics talent that is unparalleled, helping drive new research, the development of innovative technologies, and spinning out new startups," stated Pat Larkin, Director of the Innovation Institute at MassTech. "But most importantly, it provides Massachusetts with strategies that can help us supercharge the robotics cluster, including ways both public and private partners can work together to launch, attract, retain, and grow robotics companies across the state."
ABIs research confirmed that the Commonwealths robotics firms attract outside funding to the state, bringing in $190 million in private investment in 2015, equal to 23 percent of total U.S. funding, second only to California. The report also identified the key robotics segments where Massachusetts ranks consistently among the top 3 states in the country. According to the report:
• Massachusetts leads in the emerging collaborative robotics segment, a market which is expected to grow to more than $1 billion by 2020;
• Ninety (90) percent of the mobile ground robotics supplied to the U.S. military were developed in the state; and
• The Commonwealth is a leading center for the development of unmanned underwater vehicles (UUVs), which grew to a market size of $2.2 billion in 2015.
The development of the research was supported through roundtable sessions and interviews with 26 leading executives, academics, and researchers from many of the Commonwealths leaders in robotics development. ABI Research took the input from those interviews to construct a report that identified the strengths of the Massachusetts robotics cluster, but also pinpointed key segments and emerging economic opportunities that will help grow companies in Massachusetts.
"Robotics is a foundational, technology-based capability that has wide applicability and can act as the basis for creating wholly new classes of products, services, and industries, or enhancing existing systems," says Dan Kara, Research Director, Robotics, at ABI Research. "As such, the robotics sector provides for a wide range of business, investment, and employment opportunities, particularly for Massachusetts, which enjoys a number of distinct, and collectively, unique, advantages as a global robotics innovation hub."
In addition to its strong base of companies, the report also points to the world-class academic and research centers that exist across Massachusetts. The report identifies 17 research and testing centers that generate provide training for the Commonwealths high-skilled robotics workforce and help produce many top-tier companies. In addition to top programs at MIT, Harvard, and Northeastern, the study also spotlights the New England Robotics Validation and Experimentation (NERVE) Center at the University of Massachusetts Lowell, "one of only three robotics test facilities sanctioned by the National Institute of Standards and Technology (NIST)." The research also notes that Worcester Polytechnic Institutes dedicated graduate robotics engineering program was the first institution in the nation to offer three degrees in robotics.
In addition to university-based research labs, Massachusetts is also home to tier-one federal and private non-profit research labs that are driving robotics R&D, facilities such as the U.S. Armys Natick Soldier Systems Center; Joint Base Cape Cod, which houses an FAA-approved test-site for unmanned aerial systems; and Cambridges Charles Stark Draper Laboratory. The study also points to the role Cape Cods Woods Hole Oceanographic Institution (WHOI) plays in emerging marine robotics technologies, a role which led to WHOI receiving a $5 million dollar grant from MassTech to support development of R&D infrastructure in 2014.
The full report can be downloaded via MassTechs website. Included are downloads of the full research report, an executive summary, and specific findings from the report, including a list of the Massachusetts robotics cluster companies, details on the research centers in the state, and specifics on ABIs recommendations to grow the cluster.
###
About MassTech
The Massachusetts Technology Collaborative is an innovative public agency working to enhance economic growth, accelerate technology use and adoption, and harness the value of research by engaging in meaningful collaborations across academia, industry, and government. From improving our health care systems and expanding high-speed internet across the state to fostering emerging industry clusters, MassTech is driving innovation and supporting a vibrant economy across the Commonwealth.
The Innovation Institute at MassTech was created in 2003 to improve conditions for growth in the innovation economy by enhancing industry competitiveness, promoting conditions which enable growth; and providing data and analysis to stakeholders in the Massachusetts innovation economy that promotes understanding and informs policy development. For more information visit www.masstech.org.
About ABI Research
ABI Research stands at the forefront of technology market research, providing business leaders with comprehensive research and consulting services to help them implement informed, transformative technology decisions. Founded more than 25 years ago, the companys global team of senior and long-tenured analysts delivers deep market data forecasts, analyses, and teardown services. ABI Research is an industry pioneer, proactively uncovering ground-breaking business cycles and publishing research 18 to 36 months in advance of other organizations. For more information, visit www.abiresearch.com.
###
Featured Product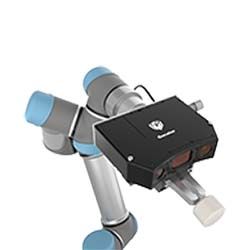 Easily integrate Gocator® 3D line profile and snapshot sensors with a variety of industrial robots to deliver high-performance 3D results in vision guidance, flexible inspection, material dispensing, and automated assembly with smart pick-and-place. Adding 3D vision to a robot turns repetitive, fixed motion into smart movement that can unlock greater value for your automation investment.