Shop Floor Automations will soon release a new device for their Wireless Connect Series
La Mesa, CA (October 11th, 2016) - Shop Floor Automations (SFA) re-branded their Hardware line as the Connect Series in the Summer of 2016. Aside from the announcement of the Multi Connect, which is anticipated for release in 2017, there is another product that will soon be part of the Wireless Connect family.

The WiFi USB Connect is in the testing stages at SFA so that it will be ready for customers at a future date. Here are the technical aspects, so far:
The WiFi USB Connect from Shop Floor Automations is a wireless USB solution for the manufacturing shop floor. It emulates a USB stick, allowing you to share data from a PC to your machines. No drivers are required - after a quick web configuration, plug it in and it's ready!
The device serves as an easy and economic shop floor upgrade. Data can be stored on a remote PC, or locally in the device's memory, with the device itself providing up to 128 MB of storage.
Floppy drive emulators and CNC machines with a USB port can now have wireless abilities! You will also have different transfer modes to customize your storage solutions.
You can set the WiFi USB Connect to rename, move, or delete a file after transferring. Data sources include network shares, FTP, email, SMB, cloud services, etc.
One of the benefits of this device will be that machine will see the files at their machine on the USB as soon as they are added to shared folder. Machinists will not need to walk to programmer or find them to get needed answers. Also, a wireless connection to the shared folder will eliminate cabling needs for control.
For more information on the WiFi USB Connect, please visit ShopFloorAutomations.com or call (877) 611-5825. More information will be made available when the product is ready for release.
Featured Product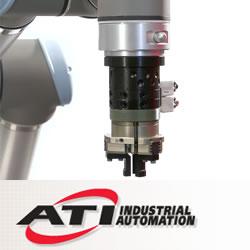 ATI Industrial Automation's MC-10 Manual Tool Changer provides a cost-effective solution for quickly changing tools by hand. Its compact yet robust design is optimized for collaborative robot applications. The ergonomic twist-collar locking mechanism ensures a secure attachment of the tool and easy manual operation with tactile feedback. This Manual Tool Changer can carry payloads of up to 22 lbs and includes multiple fail-safe features that resist vibration and prevent loosening. The MC-10 Manual Tool Changer has integrated air pass-through connections and options to connect electrical utilities if needed. ATI will feature the new MC-10 along with a variety of other robotic demonstrations and product displays at this year's IMTS show in Chicago (Booth #236417).